May 26, 2021
A Wine Lover's Tasting Guide to the 2021 Governor's Cup Case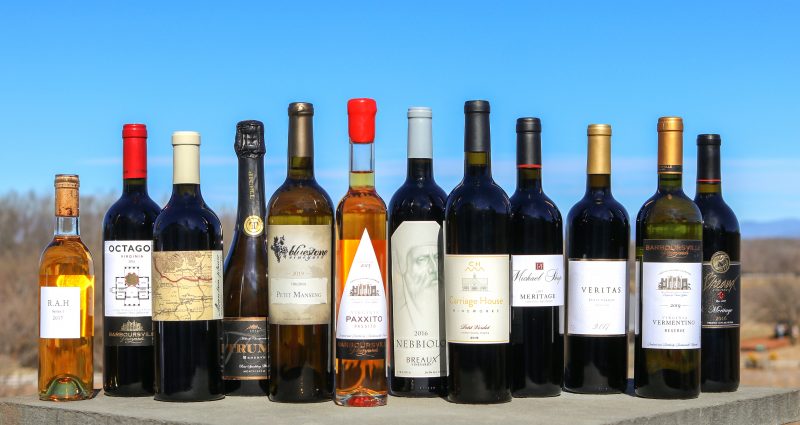 The Governor's Cup Case consists of the 12 highest-scoring Virginia wines from the Virginia Governor's Cup competition. As the top-scoring bottles out of 544 entries from across the Commonwealth, these award-winning wines belong in your glass.
Hear from the winemakers themselves as they describe the wines and share their favorite food pairings so that you can enjoy them at their best. Below, you'll find the suggested tasting order for the case and you can also head to each winery to stock up on the winning bottles.
Winemaker Jonathan Wheeler
Composition: 100% Chardonnay
Tasting Notes: This elegant sparkling wine from 100% chardonnay has a creamy mousse that is perfectly round and balanced on the palate. It is both vibrant and complex with fresh acidity, minerality, and aromas of citrus, green apple, and pear.  Aging this vintage sparkling for over 5 years on its yeast enriches this wine and creates a full-bodied sparkling with notes of toasted nuts and freshly baked pastries.
Food Pairing: Enjoy with oysters, poultry, caviar or serve as an aperitif.
Winemaker Luca Paschina
Composition: 100% Vermentino
Tasting Notes: The Vermentino Reserve has vivid citrusy aromatics with a deep, dry palate of sustained structure, excellent body, lingering minerality and finesse of finish.
Food Pairing: Venison scallopini in Vermentino and lemon juice or Pan-fried blue crab and roasted pepper coulis.
Winemaker Lee Hartman
Composition: 100% Petit Manseng
Tasting Notes: Fermented in oak and aged on the lees for 10 months, this wine's weight is offset by its acid and punchy aromatics. Orange blossom, honey and baking spices on the nose head to grilled pineapple and honeysuckle on the palate. The finish is long and mouth-watering like citrus, with a minerality that stays.
Food Pairing: With a zippy spine that cuts through a mouth coating body, the 2019 Petit Manseng is a natural pairing for a variety of foods year round. To match its acidity and weight, go with fresh combinations like Caprese salad, oysters on the half shell or swordfish in lemon sauce.
Winemaker Michael Shaps
Composition: 39% Merlot, 28% Cabernet Franc, 16% Malbec, 11% Petit Verdot, 6% Cabernet Sauvignon
Tasting Notes: This 2015 Meritage is a majority blend of Merlot and Cabernet Franc, which are two varieties that have very different aromas and flavor profiles, but harmonize well together from our vineyard sites. This wine offers dark fruit notes with slight spice and leather aromas. We anticipate that the maturing process will continue to soften the wine over the next 5-10 years and provide more expression of the assemblage of these five varietals.
Food Pairing: With firm tannins and bright acidity, this is an ideal pairing for a steak cut with a good fat content and texture. As the wine ages, it will soften and deepen to match nicely with more braised meats and lean cuts of beef.
Winemaker Josh Gerard
Composition: 57% Merlot, 19% Cabernet Franc, 18% Petit Verdot, 5% Cabernet Sauvignon, 1% Malbec
Tasting Notes: It is a clear, medium+ intensity, ruby colored wine with legs. It is a clean wine with medium+ intense aromas of dark cherry, blackberry and toffee. On the palate it has flavors of tart cherry, blackberry, cassis and bramble with a medium length finish.
Food Pairing: The 2016 Meritage is perfectly paired with Steak au Poivre, Roast Beets with Vodka Aspic or BBQ Ribs with dry rub (no sauce).
Winemaker Luca Paschina
Composition: 46% Merlot, 38% Cabernet Franc, 16% Petit Verdot
Tasting Notes: A wine of highly distinctive character, achieved in blending estate-grown Bordeaux varietals. Nearly opaque with a bright deep violet color; roasted aromas and flavors of baked berries, coffee beans, and dark chocolate; warming, complex marinated cherries and beets, nut skins, with chewy, dusty tannins and moderate oak. With an even, lively, full body. Very dry, old-world style.
Food Pairing: Osso buco alla veneziana or Sage and walnut-crusted lamb chop in rosemary jus.
Winemaker Matthieu Finot
Composition: 43% Merlot, 35% Cabernet Franc, 24% Petit Verdot
Tasting Notes: A ripe, full bodied Bordeaux blend with ample, but well integrated oak influence. Dense layers of red and black fruits, along with oak toast, leather, and spice.
Food Pairing: Pairs well with rich dishes, red meat and game.
Winemaker Josh Gerard
Composition: 100% Nebbiolo
Tasting Notes: This is a clear, medium intensity, garnet colored wine that fades to orange at the rim. It is a clean wine with medium aromas of cherry, violets, and tobacco. It is a dry wine with medium intense flavors of cherry, red apple, and tobacco with a medium length finish.
Food Pairing: This pairs great with hamburgers, paella or a hard cheese like parmesan or mild cheddar.
Winemaker Michael Fritze
Composition: 100% Petit Verdot
Tasting Notes: Dark purple color. Intense nose, distinctly floral (violets) with strong dark fruit and tar notes. Bold flavor with dark fruit (blackberry), tobacco notes and gravelly tannins. Long finish. Full-bodied and chewy. Remarkably approachable for a very young Petit Verdot and should develop well with age.
Food Pairing: This wine should be paired with foods that can handle a bold red wine. Cheeses include cheddar, gruyere and gouda. Also works with mushrooms, olives, eggplant, nuts and spicy pork.
Winemaker Emily Pelton
Composition: 85% Petit Verdot, 15% Merlot
Tasting Notes: The 2017 Vintage of Petit Verdot presents with a complex yet subtle bouquet of flowers and sage that encompass a core of dark blackberry, blackcurrant and plum that finishes with sweet tobacco. The wine is perfectly balanced with intense and concentrated fruit flavors. New French oak adds to the complexity and integration of the smooth and assertive tannins that fill the palate lingering into the long and sumptuous finish.
Food Pairing: Petit Verdot is a natural fit for deliciously rich meat dishes. Try Barbeque Ribs (with all of the wonderful side dishes to accompany it) or any meat or vegetable with a mole sauce. Osso Bucco and rich stews like coq au vin and beef stroganoff are also family favorites as pairings for this Petit Verdot.
2017 Series 1 – R.A.H Wine Co. produced at Early Mountain
Winemaker Maya Hood White
Composition: 75% Petit Manseng, 25% Malvasia Bianca
Tasting Notes: Extended lees aging coupled with residual sugar provide a round and rich mouthfeel with focused acidity from the fruit shining through. The nose leads with dried pineapple, apricot and mango, followed by gingerbread and baking spice attributes from skin contact; aromas are rounded out with notes of fresh orange blossom and honeysuckle.
Food Pairing: The goal was to embrace the unique concentration, structure, sugar and acid dynamic of Petit Manseng in a dessert wine that is balanced in such a way that it can stand up to classic dessert and cheese pairings, but also complements savoury fare.
Winemaker Luca Paschina
Composition: 50% Moscato Ottonel, 50% Vidal
Tasting Notes: Densely golden and amber, transparently luscious to the eye, creamy texture visible and lush on the palate. A bouquet of tropical fruits, including apricot, pineapple, pear, honey and almond. A firm foundation of alcohol and sugar assures long palate and shelf life.
Food Pairing: Fruit based desserts, sharp aged cheeses or simply by itself.
---
For the first time, cider competed in its own category with its own set of judges. Some of our Virginia Wine fans might be new to cider, but what better way to get acquainted than with the 2021 Best in Show Cider? Expand your local palette with this year's winner.
2020 Comeback Kid – Lost Boy Cider (Best in Show Cider)
Cidermakers David and Tegan Biun
Composition: Custom blend of dessert and heirloom apples such as York, Pippen, Delicious.
Tasting Notes: Comeback Kid is a dry cider designed to capture and showcase the amazing qualities Virginia apples retain once they are fully fermented. CBK is a well-balanced, full-bodied hazy delight. The cider is unfiltered and unpasteurized, capturing the aromas, flavors, and natural body that remains after fermentation. The result is an apple-forward tangy and tart cider with pleasant fruit and floral notes.
Food Pairing: Crisp and bold, CBK pairs well with a wide variety of foods. It is a solid companion for a bag of chips or a filet mignon. From Aged cheddars to spicy aioli, the acid in the cider supports bold flavors by being well balanced and fruit forward with a strong sense of perceived sweetness. Pairs incredibly well with red proteins like burgers and steaks, plays well with seafood like oysters (especially when using a spicy cocktail sauce), and is a wonderful partner for a charcuterie platter.
More Virginia Wine Stories