April 11, 2022
A Wine Lover's Tasting Guide to the 2022 Virginia Governor's Cup Case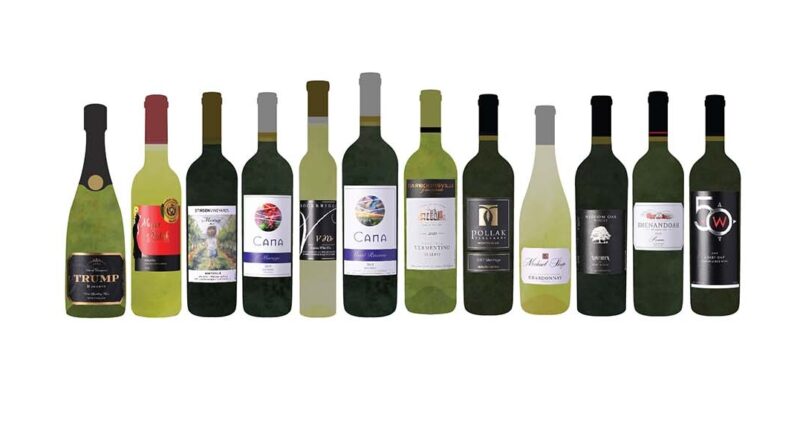 The Governor's Cup Case consists of the 12 highest scoring Virginia wines from the Virginia Governor's Cup competition. As the top-scoring bottles out of 615 entries from across the Commonwealth, these award-winning wines belong in your glass. 
For an all-inclusive experience, the Governor's Cup Case Tasting offers a chance to try all of these award-winners at locations across the state. Join moderator Frank Morgan, competition director Jay Youmans, MW, and all of the winemakers for a special guided tasting.
After a historic 40th anniversary of the competition, learn about each of the wines and enjoy them at their best. Below, you'll find the suggested tasting order for the case and you can also head to each winery to stock up on the winning bottles.
2015 Sparkling Reserve – Trump Winery
Winemaker Jonathan Wheeler
Composition: 100% Estate-Grown Chardonnay
Tasting Notes: This elegant sparkling wine made from 100% chardonnay has a creamy mousse that is perfectly round and balanced on the palate. It is both vibrant and complex with fresh acidity, minerality and aromas of citrus, green apple and pear. Aging this vintage sparkling for over 5 years on its yeast enriches this wine and creates a full-bodied sparkling with notes of toasted nuts and freshly baked pastries.
Pairing: Enjoy with oysters, poultry, caviar or serve as an apertif.
Winemaker Maggie Malick
Composition: 100% Albariño
Tasting Notes: Our Albariño is fermented and aged entirely in stainless steel. Pale gold in color, this wine is bright and lively with a zippy acidity. Lemon, lime and tangerine dance on the palate with subtle notes of orange zest, stone fruits and minerals. Crisp, dry and elegant, it pairs beautifully with ceviche, fresh oysters and grilled seafood.
Pairing: Crisp, dry and elegant, it pairs beautifully with ceviche, sushi, fresh oysters, shrimp, scallops and other grilled seafood.
Winemaker Luca Paschina
Composition: 100% Vermentino
Tasting Notes: An aromatic bouquet of orange blossoms, lemons and lychees follow through to a luscious and round white with full body and a juicy finish. Grapefruit and hints of lime zest and jasmine open to flavors of cut lemons with an embracing, minerally mouth feel and saline notes. A lovely, sophisticated expression of elusive Virginia Vermentino that leaves you craving more.​​
Pairing: Veal scaloppine in Vermentino and lemon juice; Pan-fried blue crab cakes & braised mushrooms; Sea scallop gratin in cream sauce with fresh bass.
Winemaker Michael Shaps
Composition: 100% Chardonnay
Tasting Notes: Initial aromas of caramel apple, ripe pear, melon and citrus give way to toasted brioche, homemade biscuit dough and almonds with notes of cheese rind as the wine begins to open. A full, but not overly rich body is perfectly balanced by flinty minerality and sharp, elevated acidity with a long, citrusy finish of lemon and lime zest.
Pairing: Seafood: Oysters, lemon-marinated shrimp, and calamari pair well with the vibrant acidity, while king-crab, lobster tail, sea bass or salmon compliment the roundness of the wine perfectly. Poultry: Herb crusted chicken or game hen to bring out savory notes. Roasted duck and turkey are also both classic pairings that will provide accompaniment to this wine. Cheeses: This wine's creamy texture needs bigger cheeses to stand up to it including Camembert, Saint-Andre, Taleggio and Humboldt fog.
Winemaker Jason Burrus
Composition: 75% Cabernet Franc, 25% Cabernet Sauvignon
Tasting Notes: Aromas of bramble fruit, black cherry, tobacco and untoasted oak. These notes are also well-integrated on the palate with a harmonious balance of acid, soft tannins and alcohol.
Pairing: This wine is robust enough to stand up to red meat dishes (e.g. steak and lamb) but will also pair well with less intense dishes such as pizza and pasta.
Winemaker Michael Shaps
Composition: 38% Cabernet Franc, 37% Cabernet Sauvignon, 25% Petit Verdot
Tasting Notes: Crushed blackberry, dark cherry, cassis and a hint of raspberry are prevalent on the nose of this wine. Rich notes of espresso, leather and slightly malted chocolate become more apparent as the wine moves from fruitier aromatics to earthier tones of soil and truffle. French oak aging adds a softness to the tannins while lending a touch of cedar and vanilla, while moderate-plus acidity maintains this wine's firm structure, giving it substantial aging potential.
Pairing: Leaner cuts of beef like filet mignon or skirt steak would work well with the softer tannins in this wine. Herb crusted venison and lamb chops would work perfectly to bring out some savory undertones. Mushroom based sauces and heartier pasta dishes would also compliment the wine's richness and allow for its complexity to shine. Cheeses: Triple crème brie, Comté and Aged Manchego.
Winemaker Melanie Natoli
Composition: 43% Cabernet Sauvignon, 22% Merlot, 14% Malbec, 14% Petit Verdot, 7% Cabernet Franc
Tasting Notes: The nose is complex and inviting, leading with aromas of black cherry, blueberry and plum. The fruit is closely followed by notes of cocoa powder, vanilla and a hint of tarragon. On the palate, the same fruit profile is accompanied by cocoa and nutmeg and wrapped in silky, supple tannins.
Pairing: This wine will pair beautifully with leaner meats such as duck, venison or quail dressed in a blueberry sauce.
Winemakers Rachel Stinson Vrooman & Nathan Vrooman
Composition: 50% Merlot, 20% Cabernet Franc, 15% Cabernet Sauvignon, 15% Petit Verdot
Tasting Notes: Red currant and kirsch combine with violet and lavender aromatics. Toasty French oak enhances the sturdy tannins in this structured blend from an excellent vintage.
Winemaker Jason Lavallee
Composition: 50% Petit Verdot, 25% Cabernet Franc, 25% Cabernet Sauvignon
Tasting Notes: Composed of our estate grown cabernet franc, cabernet sauvignon and rounded out by petit verdot grown at Turk Mountain. Barrel selection for the blend was chosen by taking the favorite barrel of each of the cabernets and two for the PV. The cabernet franc was aged in new Virginia oak, the rest were neutral. Medium bodied wine with notes of dark cherry, plum and spice.
Pairing: Anything on the grill or smoked would pair well. A grilled lamb, filet or even pork would balance nicely with the moderate tannin and fruit forwardness of this wine.
Winemaker Benoit Pineau
Composition: 60% Cabernet Franc, 24% Merlot, 8% Petit Verdot
Tasting Notes: Produced in a Bordeaux style, this wine presents a full bodied opulent mouthfeel with silky tannins and integrated acidity to form cassis, black cherry and notes of spice box. This wine is 100% Estate Grown and created from a barrel selection of our best vineyard blocks.
Pairing: Beef Short Ribs, Duck Confit, Ossobuco, Tuscan Stuffed Portobello
Winemaker Melanie Natoli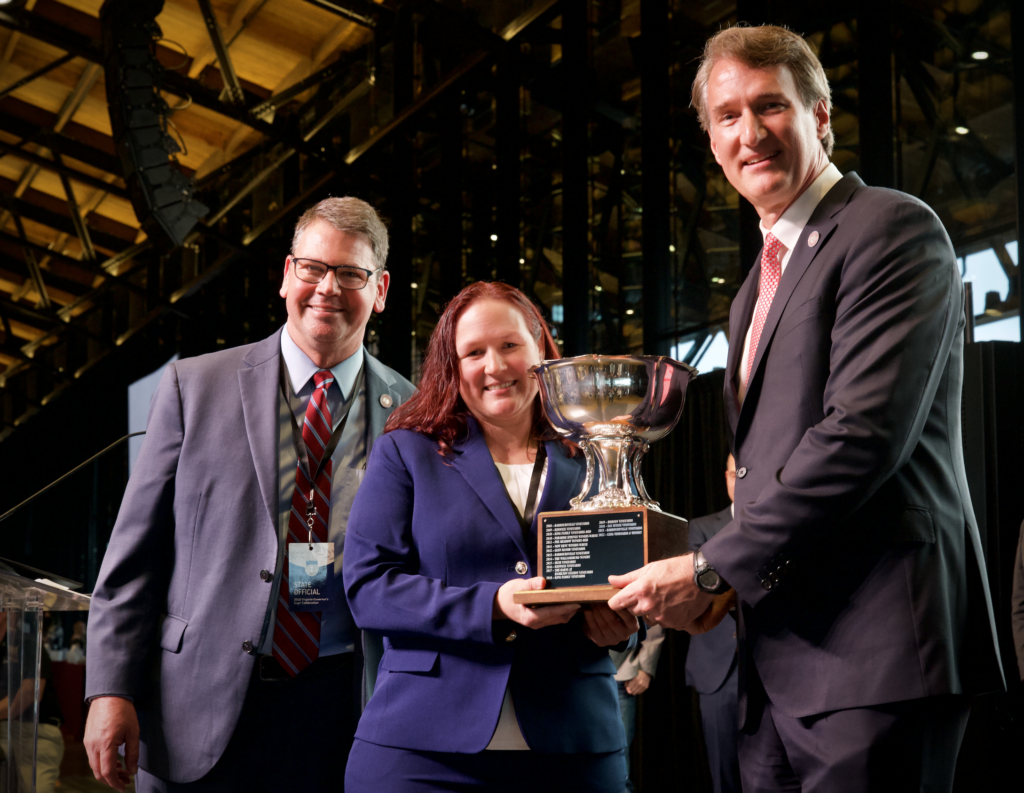 Composition: 65% Petit Verdot, 29% Cabernet Franc, 6% Merlot
Tasting Notes: On the nose, savory notes of black olive, soy sauce and toasted oak are followed by vanilla, black plum and herbes de Provence. Ripe blackberry accompanies the black plum and herbes de Provence on the palate and is supported by well-structured tannins.
Pairing: This wine will pair with dishes that complement the herbal and savory notes. The tannins will also provide a nice match for richer dishes. It would be a lovely pairing for an herb crusted leg of lamb or beef wellington.
Winemaker Shepherd Rouse
Composition: 39% Traminette, 36% Riesling, 19% Vignoles, 6% Vidal Blanc
Tasting Notes: Beautiful amber color followed by enticing toffee, pineapple, rose petal nose and flavors
carried through. Rich but dancing finish.
Pairing: Blue cheese and figs, apple or pear torte with main sweetness from natural sugar in the fruit, bread pudding with not a lot of raisins.
---
For the second year, cider competed in its own category with its own set of judges. Expand your local palette with this year's Best in Show Cider.
Cidermaker Chuck Shelton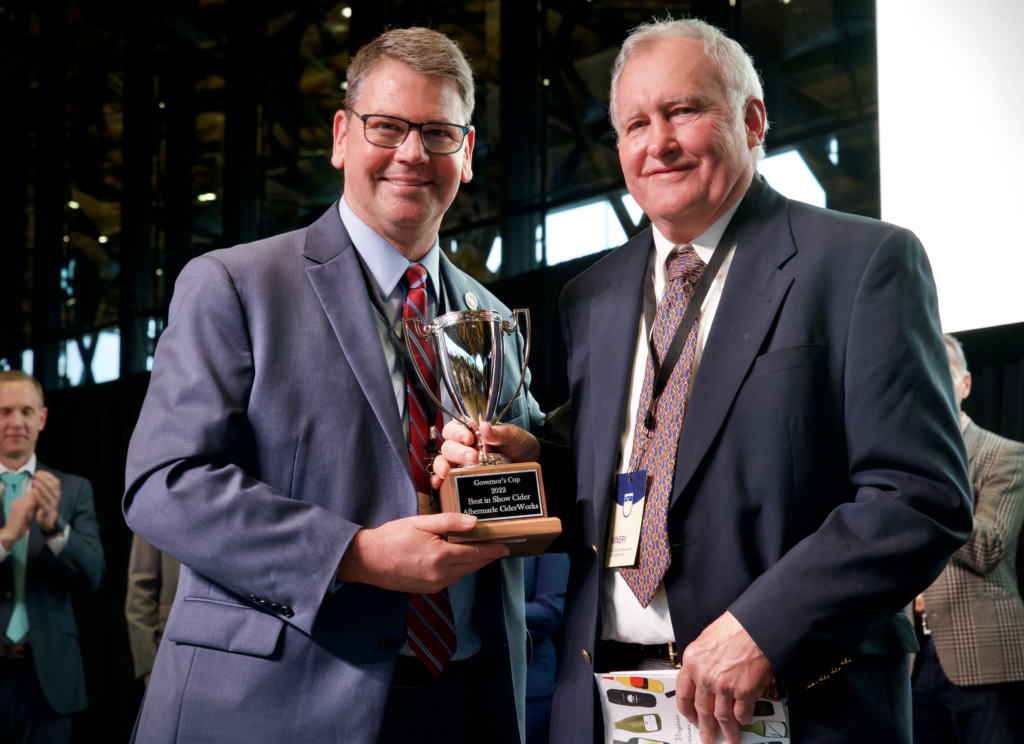 Composition: 100% Hewes Crab Apple
Tasting Notes: The dry conditions of the 2019 harvest produced a richly flavored Hewes Crab apple crop. The cider evokes aromas of orange blossom and lemon balm that lead to ripe pear and lemon zest on the palate. It has a textured medium body with hints of yellow apple skin and a vivacious acidity on the finish.
Pairing: This cider's bright acidity makes it perfect for a warm afternoon by the pool or as a companion to oysters or ceviche. The light tannic structure gives it a body that also holds its own alongside pecan crusted pork chops and creamed spinach with nutmeg.
More Virginia Wine Stories