June 29, 2023
Cabernet Franc: Elegance & Attitude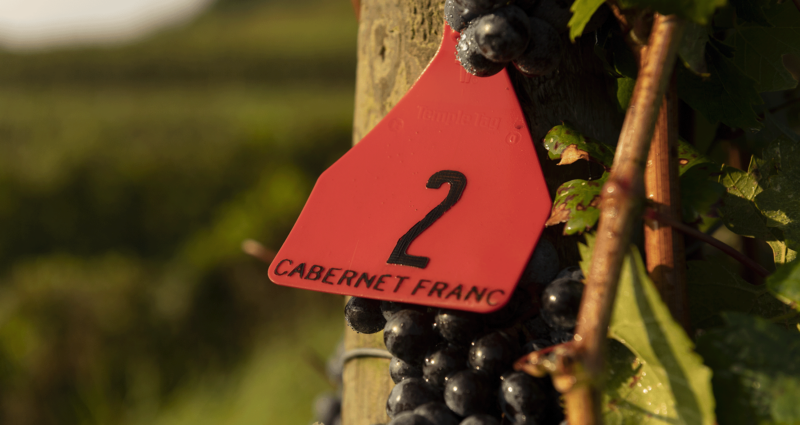 Through Virginia Wine's evolution, winemakers have discovered the grape varieties and wines that are defining the state— crafting wines that could not have come from any other time or place. Wines that are elegant, expressive and unmistakably Virginia.
With over thirty 30 varieties planted, winemakers and viticulturists have become fluent in the language of the land, planting grapes that are well suited to Virginia's varied soils and farming quality fruit year after year.
Many of the note-worthy grapes you'll find in Virginia are unsung heroes who have grown to greatness. Grapes like Viognier, Cabernet Franc, Petit Manseng and Petit Verdot– relative obscurities and bit-players in Old World wine traditions—are taking center stage in Virginia. These grapes are much like the story of Virginia Wine (and the story of Virginia itself), a tale of secondary characters from the Old World who learned to thrive in a new environment. Read along as we uncover more about the grapes defining Virginia.
---
Cabernet Franc: Elegance & Attitude
This hallmark Virginia red is full of delicious contradictions
The many contradictions of Cabernet Franc begin in the vineyard. The grapes themselves are simultaneously thin-skinned yet hearty. As one Virginia viticulturist colorfully put it, Cab Franc can "take a lot of sh*t and deal with it," which, if you know anything about winemaking in Virginia, is among the highest praise. It's no surprise that it is now the most planted variety in the state with over 700 acres under-vine.
Historically, Cabernet Franc is celebrated as one of the five grapes (along with Cabernet Sauvignon, Merlot Malbec, and Petit Verdot) that made Bordeaux blends the most coveted concoction in the history of wine. Yet, like many of those unsung heroes of Old-World wine traditions, Cabernet Franc has stepped out of the shadows and into the spotlight in Virginia.
Though featured as a single varietal in a handful of regions throughout Chile, California, Italy, and France—most famously in the Loire Valley—Virginia Cab Franc has a character all its own. Our region's growing reputation throughout the world of wine is thanks in no small part to the quality of our Cabernet Franc.
One sip and it's clear why Virginia Cabernet Franc is building this reputation. But, with Cab Franc, one sip is never enough. Simultaneously subtle and complex, this medium-bodied red won't bowl you over with its intensity but entices you with layers of flavor. Floral aromas and flavors of ripe cherry and blackberry contrast with savory notes of cedar, tobacco, and pepper.
Cab Franc's versatility makes it a great pairing for everything from stews to burgers, duck breast, and venison. Enjoying a glass of Cabernet Franc with some local meats and cheeses may be the most Virginia thing one could do.
More Virginia Wine Stories