October 29, 2019
Love at first site- Crushing on a vineyard and falling in love with a community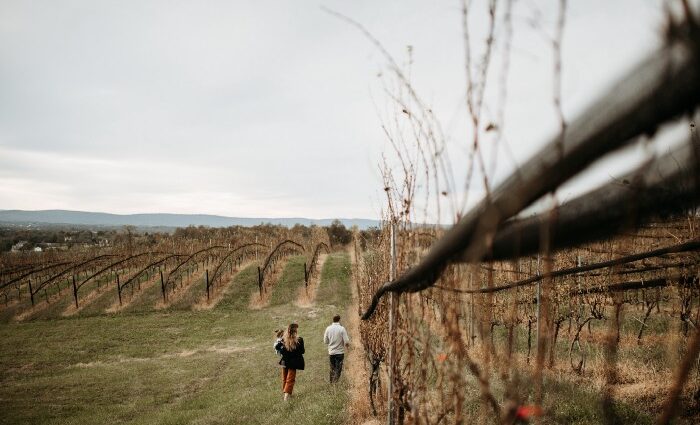 A guest post by Sarah Walsh, DipWSET
It all started because of a site. The kind of potential in a vineyard that makes the hair on your arms stand up, a nervous excitement that makes your stomach do summersaults. When Nate and I stood on the Ridge overlooking the valley below, and thought about changing the entire course of our lives in order to grow grapes in Virginia, we knew that Bethany Ridge had all the things we wanted from a vineyard.
It was because of our belief in the expressive potential of Bethany Ridge that we founded Walsh Family Wine. That belief started as a small passion project, and has led, in the ensuring years, into the expansion of a vineyard, the creation of a business, and the hiring of an amazing team. It has also led to a sense of community around the tasting room, and around passionate and creative people that we may have never met otherwise. We've been blown away by the kind response to wines not only from Bethany Ridge but from multiple sites we are now honored to farm, and from the sites of our friends and colleagues, of our contemporaries across the state.
What began as a belief that we could make a unique, authentic bottle of Virginia Sauvignon Blanc has changed our lives in a profound way. Our winegrowing goal is a small piece of a larger patchwork. We're tucked in amongst hardworking vineyard crews who prune and pick fruit, wine tourists from throughout the state, breweries and distilleries and cideries. Chefs with an ever-growing interest in the local and seasonal, farmers who reclaim land, block by block, to provide locally. Photographers, graphic designers, wine critics, locals looking for somewhere fun to spend a Saturday night. The family who has just moved here from Tokyo, who drop by on a Saturday morning with their two children, not particularly interested in wine but interested in a spot to learn something about our town, to understand where they've moved and what makes it so special. Watching as their children play with our daughter, June, who is being raised in many ways in the middle of all this. Our biological family blends seamlessly with our winery family around discussions happening in vineyards and in cellars, in the kitchens of other winemakers. Long meals and post-harvest dinners captivated by all things wine and vintages.
After five years of farming grapes of our own, and a year of operating a tasting room, one of our greatest revelations has been this: the story is about so much more than a drink. We planted here because we saw the potential in a site, and what's grown is our understanding that the souls who live here are what give this region its magic. We are eternally grateful.
---
Sarah Walsh is the wife-side of the husband and wife team behind Walsh Family Wine, and also works as a sales consultant and educator for Winebow, a Fine Wine importer and Distributor. She holds a diploma from the Wine and Spirits Education Trust. She is passionate about building and encouraging connections between farmers, wineries, restaurants, breweries and creatives. Her favorite job in the vineyard is shoot thinning and her current wine obsession is Chenin Blanc. You can find her regularly teaching wine classes throughout Loudoun County, and chasing her adorable 3 year old around the Walsh Tasting Room.
More Virginia Wine Stories