September 7, 2023
Make the Most of Virginia Wine Month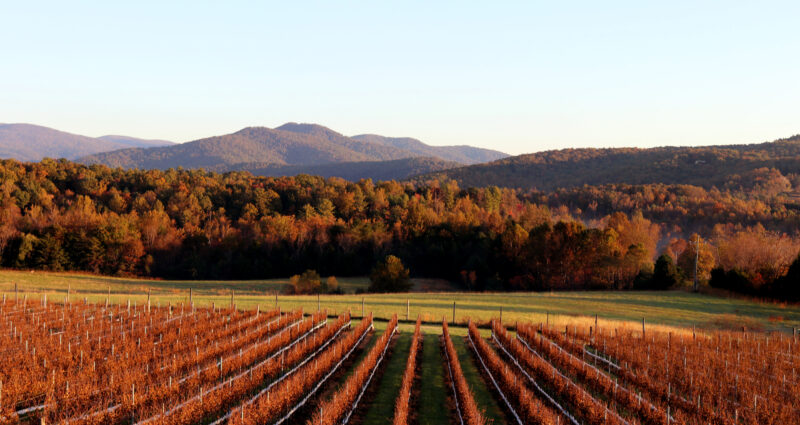 October marks the 35th year of Virginia Wine Month.
Autumn has a way of highlighting Virginia's ever-changing landscape. The magic of the season surrounds you. As harvest winds down, the foliage adorns itself in vibrant colors, and a refreshing chill flows throughout the region. This time of the year calls for celebration, and as October approaches, so does Virginia Wine Month — a tradition inaugurated in 1988.
Plan Your Visit
Autumn is an awe-inspiring time to set foot in Virginia's wine country. Experience it for yourself—select a vineyard or plan a weekend getaway. Map out the perfect itinerary or simply follow the winding roads to discover Virginia's ever-shifting scenery and exceptional wines.
To enhance your Virginia wine adventure, create an account on virginiawine.org and download the app to access your saved itineraries and stay updated on upcoming events. For those who prefer a physical map, request a winery guide for a statewide map of all 300+ wineries, cideries, and meaderies.
Join the Gold Medal Wine Trail for your gateway to some of Virginia's finest wineries. The pass offers not only exceptional wine experiences, but also opportunities for discounts and prizes along the way.
Harvest Party
Harvest Party, our home-grown holiday, serves as the day when the Commonwealth comes together to raise their glasses in honor of our region's bounty. Where people in the city, the country, and on the shore gather in restaurants, vineyards, private homes, and open fields for a feast of Virginia-grown food and wine.
This year's Harvest Party will take place on Saturday, October 21st. Find a Harvest Party celebration and an array of October events throughout the state.
Enjoy VA Wine
Bring the celebration home with you! Purchase Virginia Wine from featured partners and local retailers and share it with friends and family as you toast to the season. Consider new pairings with your favorite wine, or explore a unique Virginia varietal for an unforgettable tasting experience.
Start planning your Virginia Wine Month adventure today.
More Virginia Wine Stories