August 24, 2023
Petit Verdot: Bold & Beautiful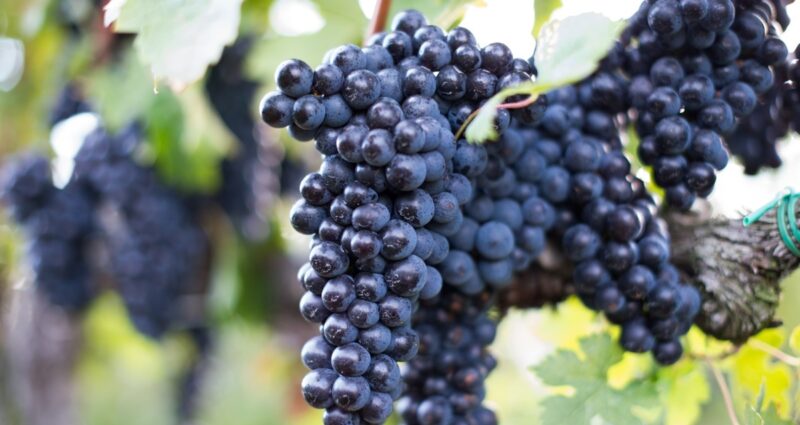 Through Virginia Wine's evolution, winemakers have discovered the grape varieties and wines that are defining the state. Crafting wines that could not have come from any other time or place. Wines that are elegant, expressive and unmistakably Virginia.
With over thirty 30 varieties planted, winemakers and viticulturists have become fluent in the language of the land, planting grapes that are well suited to Virginia's varied soils and farming quality fruit year after year.
Many of the note-worthy grapes you'll find here are unsung heroes who have grown to greatness. Grapes like Viognier, Cabernet Franc, Petit Manseng and Petit Verdot– relative obscurities and bit-players in Old World wine traditions—are taking center stage in Virginia. These grapes are much like the story of Virginia Wine (and the story of Virginia itself), a tale of secondary characters from the Old World who learned to thrive in a new environment. Read along as we uncover more about the grapes defining Virginia.
---
Petit Verdot: Bold & Beautiful
This star varietal is late to ripen but makes an audacious entrance
Petit Verdot shines in Virginia's vineyards, its thick skins and late-ripening nature are well suited to the Commonwealth. Producing fruit with well-developed flavors that allows winemakers to embrace a varietal that is both bold and beautiful. The end result– wines with impressive depth, inky color and complexity.
The grape variety originated in Bordeaux, France. There it plays a small role as a blending component– bringing depth and structure to some of the most well-recognized red blends in the world. However, the climate in Bordeaux results in a struggle to reach full ripeness. Even the name, which translates to "little green" in French, alludes to the Petit Verdot's tendency to remain green and unripe compared to other varieties. As winemaking expanded into new world regions, Petit Verdot started to show promise as a standalone varietal. In Virginia, winemakers are embracing its perfect ripeness and harnessing its power to craft an array of noteworthy wines from single varietals to impressive blends.
Petit Verdots are full-bodied, dark red wines with just as much boldness in flavor as in color. Strong notes of black cherry, plum, and dark chocolate take center stage on your pallet, while aromas of violet, lavender, and sage capture your sense of smell.
Petit Verdot's dense and intense character pairs well with portobello mushrooms, steak and lamb chops, and proves itself a worthy partner for big flavors like smoked meats and Mexican mole. Bold and beautiful, Petit Verdot is a wonderful way to ward off the chill of a winter's night, take a backyard barbecue to new heights, or simply sip and savor.
Virginia Petit Verdot is a testament to winemakers' ability to read the signs of their land and craft wines expressive of the state's unique terroir and climate.
More Virginia Wine Stories