February 9, 2021
The Ultimate Wine Lover's Guide to Valentine's Day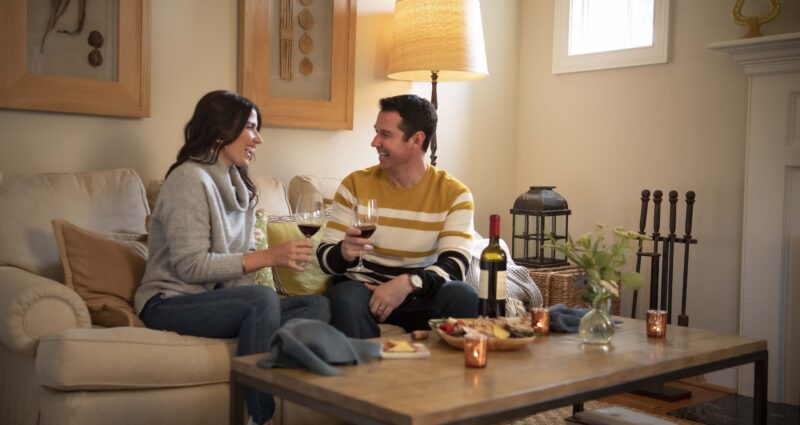 Shower your loved ones this Valentine's Day in the best possible way—with Virginia Wine. Whether you're looking for a local bottle to share or gifts your person is sure to love, you've come to the right place.
Wine & Dine
Make a reservation today! Head to a winery with a restaurant on site or visit a featured partner. If you prefer staying in, find your local bottle of choice at a shop near you. Find events, both virtual and in-person, to spend time and spread the love to all the important people in your life.
Gift Guide
Mix up the traditional Valentine's Day gifts this year and give the gift of Virginia Wine.
1. Select the right bottle.
Do you or your partner have a favorite vintage or local bottle? Search by winery or wine type to purchase in time for the day of love. If you need some ideas, here are some special considerations:
Whether you're raising a glass with your Galentines or sipping on something bubbly with the one you love, sparkling wine is key to any special occasion. 
Embrace the pink with a bottle of Rosé.
Uncork an older vintage for something extra special.
2. Choose the gift that keeps on giving.
Expand their collection, and join a club that will keep your loved one's stash stocked. Show the wine lover in your life that you care with a Virginia Wine & Cider subscription or explore unique small-batch wines with the Taste of Virginia club.
Many Virginia wineries have their own wine clubs and subscriptions too, so if you have a favorite winery you'd like to support, go straight to the source.
3. Plan a weekend getaway.
Few things are more romantic than an overnight stay in Virginia Wine Country. Find your winery of choice and plan your trip today.
More Virginia Wine Stories