January 4, 2019
Virginia Wine: 2018 Recap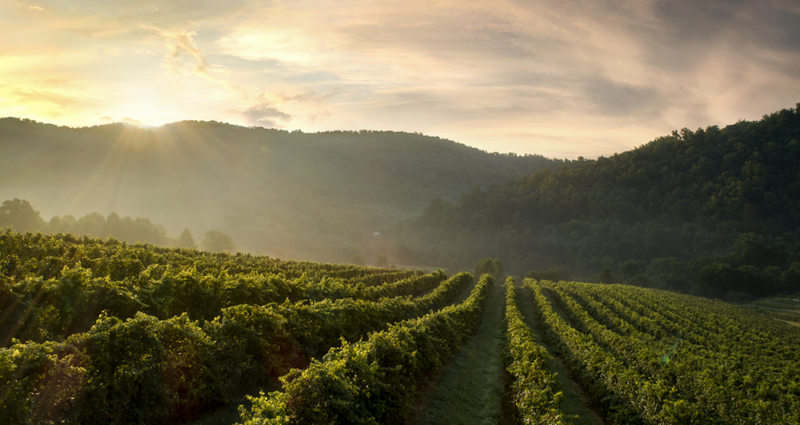 A new year has dawned and as we look forward to all the ways Virginia Wine will be sipped, shared and enjoyed this year, we're also taking a moment to reflect on 2018's Virginia Wine journey.
2018 Governor's Cup Competition
2018 was a thrilling year for the Governor's Cup Competition. The coveted Cup was awarded to King Family Vineyards for their stellar 2014 Meritage. 99 of the 442 competition entries scored 90 points or higher, earning the highest number of gold medals ever received for this prestigious competition. Commenting on this year's judging, Jay Youmans, MW and competition director said,
"There are several factors that contributed to this banner year for the Virginia Governor's Cup. Several judges commented that the white wines really stood out this year. In addition, the overall caliber of wines were outstanding. The scores of wines that were sent to the final round of judging from the preliminary round were on average, two points higher than in previous years. This is a significant difference. Combined, the end result is an exceptional year for wines in this competition."
The 2019 Governor's Cup Competition is just around the corner. To stay informed, join our email list for competition updates.
Virginia Wine Scores High
Hundreds of Virginia wines were evaluated and scored by both Mark Squires of Robert Parker's Wine Advocate and JamesSuckling.com. The highest Wine Advocate score came in at 94, with 60 of the wines evaluated scoring 90 or higher. James Suckling's tasting found an average score of 90.23 for the 120 red wines submitted; the highest score for any wine for the American Wine Revolution tasting was a Virginia red (96 points). The scores reflect the hard work and dedication of Virginia's winemakers to understand the Commonwealth's land and produce wines that are worthy of her heritage.
Read All About It
There was no shortage of news surrounding Virginia Wine in 2018. A few highlights include:
1. Beyond Napa: 7 Emerging American Wine Regions to Visit Now by Todd Plummer, Vogue. **highlights the Monticello AVA
2. The Two Unsung Grapes Putting Virginia Wine on the Map by Carrie Dykes, Wine Enthusiast. **third highest read article on Wine Enthusiast in 2018
3. Virginia Wines Shine (Again) at the Annual Governor's Cup Gala by Colman Andrews, The Daily Meal
4. Wanna Fight About Virginia? by Michael Franz, WineReviewOnline.com **Franz is a Governor's Cup Competition judge and fierce advocate for the Virginia Wine industry
There's always more to learn and read about Virginia Wine, so if you have some spare time visit our News page for continued updates on press about our state's wine.
Cheers To 30 Years Of Virginia Wine Month!
October 2018 marked 30 years of #VAWineMonth. It all began in 1988, when there were only 40 wineries in the Commonwealth. This year, we celebrated with 280 wineries and Virginia Wine lovers across the state and beyond. Virginia Wine's inaugural Harvest Party was introduced, encouraging everyone to celebrate the unique bounty and spirit of Virginia throughout the month of October. It's been three decades since the launch of Virginia Wine Month and the industry has grown tremendously — cheers to the next 30 years!
Thanks For A Great Year!
According to Virginia ABC sales data, over 6.4 million bottles of Virginia Wine were bought last year. We are elated to see continued enjoyment of a truly local product by Virginia's own inhabitants. We hope that you'll continue sharing and savoring Virginia Wine throughout this new year!
More Virginia Wine Stories