April 4, 2023
A Wine Lover's Tasting Guide to the 2023 Virginia Governor's Cup Case
Each year, the top twelve Virginia wines entered in the Virginia Governor's Cup competition go on to make up the Virginia Governor's Cup Case. This award-winning lineup is a representation of the experimentation and mastery found within the #vawine industry. Below, you'll find an in-depth tasting guide, along with tasting notes and pairing suggestions from the winning wineries themselves.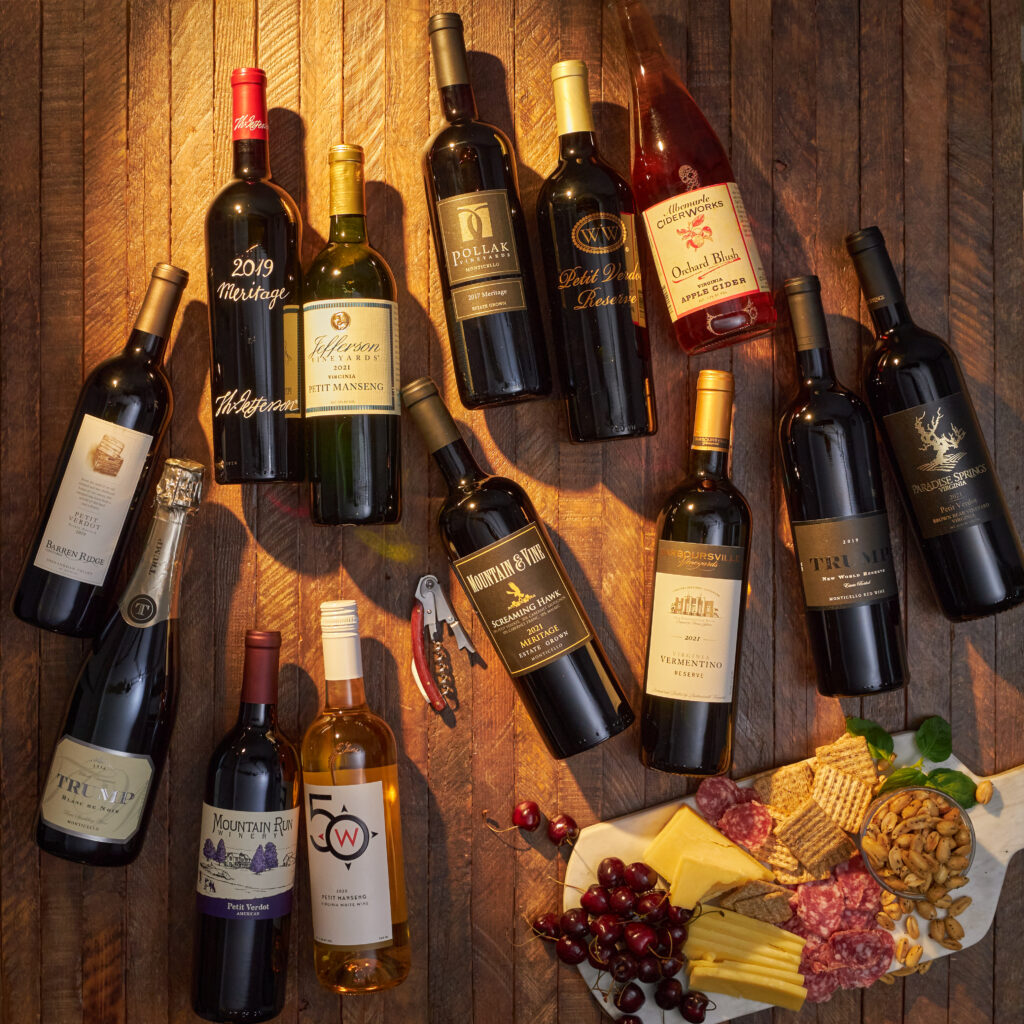 Winning Wines
Winemaker Jonathan Wheeler
Composition: 100% Pinot Noir
Tasting Notes: This beautiful, pale yellow wine with a finely beaded mousse has a vibrant, racy acidity. Flavors of apple, pear and candied lemon peel dominate the nose but are nicely balanced with a nutty complex and bread dough aromas. Finished with a reserve dosage to finish in a Brut style, this sparkling is truly balanced and ready to drink.
Pairing: Enjoy with mushrooms, seafood and smoked salmon.
Winemaker Luca Paschina
Composition: 100% Vermentino
Tasting Notes: Intense floral notes and aromas of grapefruit, peach, thyme and fresh mint. Medium-bodied. A note of wet stone drives the palate with bright acidity, minerality (almost salty) and a persistent fresh, herbal finish. A lovely, sophisticated expression of a somewhat elusive varietal in the U.S. that leaves you craving for more.
Pairing: Seafood Stew, Herbs, Little Neck Clams, Bar Harbor Mussels, Salted Cod, Potatoes & Toasted Baguette. At the world-class, on-site Palladio Restaurant, enjoy local tomato & burrata caprese with crispy basil and aged balsamic glaze or baked focaccia with heirloom cherry tomatoes, courtesy of Executive Chef Michael Clough.
Winemaker Chris Ritzcovan
Composition: 100% Petit Manseng
Tasting Notes: Fermented and aged in neutral French oak barrels for six months, the 2021 vintage is constructed of 100% Petit Manseng. Opening with fragrant notes of honey, tropical fruit and spice, the full-bodied palate expresses vibrant flavors of pineapple, stone fruit and citrus zest. The finish is bright and lengthy with hints of grapefruit.
Pairing: Crisp, dry and full-bodied, the 2021 Petit Manseng has vibrant but approachable acidity, making it a versatile wine for food pairings. It works perfectly alongside seafood, such as salmon fish cakes, but also creamy chicken pasta, veal chops or butternut squash.
Winemaker Jason Burrus
Composition: 100% Petit Manseng
Tasting Notes: Aromas of apricot, honey and cantaloupe contrast a dry-tasting, but rich and full bodied palate structure. A big, robust wine with focused fruit character and a long finish.
Pairing: Pair with rich cheeses like Brie, Camembert and goat cheese. Also consider pairing with tannic foods like walnuts and bitter greens.
Winemaker Chris Ritzcovan
Composition: 45% Merlot, 40% Petit Verdot, 12% Cabernet Franc, 3% Malbec
Tasting Notes: Composed primarily of estate grown Merlot, Petit Verdot, Cabernet Franc and Malbec, this wine aged for 20 months in a blend of French, American and Hungarian oak. The Merlot lends bright fruit components, while the Petit Verdot adds significant structure, length and tannin. The wine opens with elegant aromas of cherry, almond, vanilla and spice. Flavors of cocoa, currant and plum are balanced with approachable tannins and a round finish.
Pairing: The tannic structure and bright acidity of this wine make it an ideal pairing for roasted or grilled cuts of meat, such as roasted duck or meatloaf. Meat-based sauces, including Bolognese, pair wonderfully along with full-flavored cheeses, such as cheddar or aged provolone.
Winemaker Andrew Bilenkij
Composition: 50% Petit Verdot, 30% Cabernet Sauvignon, 10% Cabernet Franc, 10% Malbec
Tasting Notes: The 2021 Meritage is 50% Petit Verdot, 30% Cabernet Sauvignon, 10% Malbec and 10% Cabernet Franc that was grown on the south facing slopes of our estate vineyard. It has a vibrant nose of fresh blackberry, dark chocolate and a subtle herbal note. The generous palate exhibits sumptuous layers of dark berry fruits with cassis, fresh cherry and savory complexities. The oak is subtle, playing a supporting role seamlessly integrating the fruit with the fine tannins for a long, clean and persistent finish.
Pairing: Braised red meat dishes such as osso buco beef or beef stew. Roast lamb.
Winemaker Benoit Pineau
Composition: 60% Cabernet Franc, 24% Merlot, 16% Petit Verdot
Tasting Notes: Produced in a Bordeaux style, this wine presents a full bodied, opulent mouthfeel with silky tannins and integrated acidity to frame notes of cassis, black cherry and hints of spice box, ahead of a long-lasting finish.
Pairing: Braised Beef Short Ribs with Morel Risotto.
Winemaker Jonathan Wheeler
Composition: 45% Merlot, 30% Cabernet Franc, 15% Petit Verdot, 10% Malbec
Tasting Notes: This signature red showcases our best terroir in this full-bodied Bordeaux-style blend. It is complex and round, with well structured tannins, and has developed flavors of blackberry, cassis, vanilla and toasted oak. Just released, this wine will develop and evolve in the bottle softening into a seamless wine with aging potential.
Pairing: Enjoy with steak, lamb and hard, salty cheeses such as gruyère.
Winemaker Rob Cox
Composition: 100% Petit Verdot
Tasting Notes: This wine showcases one of our unique vineyard terroirs out in the Shenandoah Valley. By aging entirely in French oak, a savory note intertwines with the blackberry and floral aromatics, true to the variety. This wine has well-rounded tannins and bright acidity that highlight the blackberry and licorice component then transitions to an earthiness and baking spice on the finish.
Pairing: The abundance of tannins and acid in this Petit Verdot allow it to stand up to the heavier meats like a roasted lamb or beef short rib but its balance and earthy notes also allow it to work well with mushroom based dishes. For cheeses, try a cave aged Gruyere or an aged Gouda.
Winemaker Eric Schenkel
Composition: 100% Petit Verdot
Tasting Notes: Deeply colored and full-bodied with a powerful, well-balanced structure. Moderately high acid with medium oak and bold but smooth tannins. Floral and herbal aromatics are redolent of violets and dried herbs such as sage. Lush flavors of black fruits on the palate including black cherry, blackberry, blueberry and plum. Aging in oak provides gentle secondary notes of caramel, vanilla, mocha and leather.
Pairing: The wine's bold flavors and aromas present extremely well when paired with rich meat dishes: filet mignon, lamb kabobs and slow-smoked brisket. The winemaker's recommended pairings are lamb lollipops with chimichurri and beef tenderloin bruschetta with caramelized onion and horseradish aioli (try this dish at The Bad Apple Barn restaurant in Pembroke, Virginia).
Winemaker Matthew Meyer
Composition: 100% Petit Verdot
Tasting Notes: Initially, there are dates, figs and plums which give way to blueberry, dark cherry and blackberry. The fruits are enveloped in dark chocolate and a touch of vanilla. Next to the dark chocolate, covered fruits is a lovely floral and fresh herb bouquet nuance. The oak comes through just enough to balance out the bold fruits. The tannins are firm yet approachable. All these attributes create a finish that is expressive, bold and well-integrated.
Pairing: A braised lamb shank in a rich wine sauce with rosemary and thyme accompanied with some dauphinoise potatoes would be lovely. Or try a grilled burger with truffle fries or pasta with a heavy tomato sauce and herbs. This wine is fit for any pairing.
Winemaker Jessi Gatewood
Composition: 100% estate grown Petit Verdot
Tasting Notes: Complex nose of crushed berries, dark fruit and soil with underlying notes of violet, black pepper and anise. French and Virginia oak lend sweet notes of vanilla, cocoa and hickory syrup. On the palate a harmonious balance of acid, alcohol and structured tannins.
Pairing: Tannic structure complements hearty meat dishes such as herb crusted lamb, spicy seared steak or game bird. Vegetarian options of mushroom risotto, savory dishes with truffles, lentils, or black olives would also pair well.
Cidermaker Chuck Shelton
Composition: 30% Brugeiere Red-Fleshed Crab, 30% Dolgo Crab, 30% Geneva Crab, 10% Redfield
Tasting Notes: Red-fleshed apples give this cider a tartness akin to rhubarb and sour watermelon. Aromas of red berry such as strawberry and raspberry. Lightly tannic with a crisp finish.
Pairing: Pair alongside Mediterranean dishes such as olive tapenade crostini or grilled eggplant; Charcuterie and creamy cheeses; Bruschetta.
Taste Along with the Experts
Looking for an even deeper dive into this year's Virginia Governor's Cup Case? Watch these Zoom recordings and hear from each of the winemakers alongside MW and competition director Jay Youmans.
2021 Vermentino Reserve – Barboursville Vineyards
2021 Petit Manseng – Jefferson Vineyards
2019 Meritage – Jefferson Vineyards
2021 Screaming Hawk Meritage – Delfosse Vineyards and Winery (Cup winner)
Session 2: Virginia Petit Verdots
2021 Petit Verdot – Mountain Run Winery
2019 Petit Verdot – Barren Ridge Vineyards
2021 Petit Verdot – Paradise Springs Winery
2019 Petit Verdot Reserve – The Williamsburg Winery
2016 Blanc de Noir – Trump Winery
2020 Petit Manseng – 50 West Vineyards
2019 New World Reserve – Trump Winery
2017 Meritage – Pollak Vineyards
For even more opportunities to taste Virginia's best wines from the 2023 Virginia Governor's Cup, venture into wine country with the Gold Medal Wine Trail.
More Virginia Wine Stories