March 7, 2023
The Ultimate Guide to the Gold Medal Wine Trail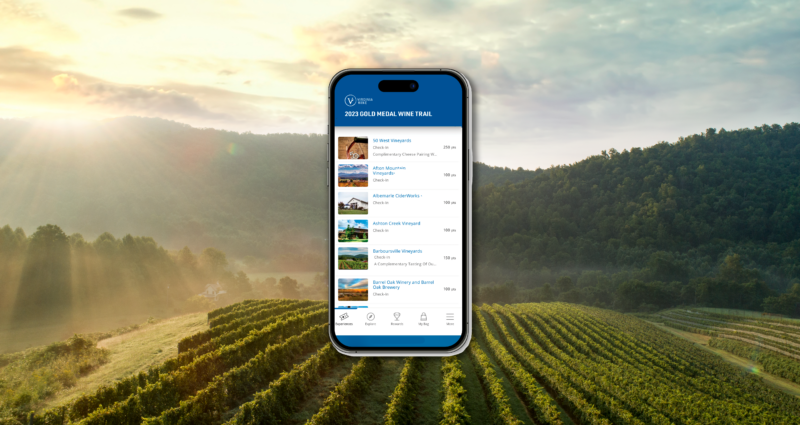 A Passport to Virginia's Best Wines
Virginia is home to over 300 wineries spread across 10 distinct regions, offering endless opportunities for #vawine lovers to explore. For a narrowed-down curation of Virginia's best, sign up for the free Gold Medal Wine Trail. The trail offers a mobile passport featuring this year's 66 highest-scoring wineries, cideries and meaderies in the 2023 Virginia Governor's Cup competition.
Not only do you unlock access to these 66 gold medalists, but you'll also have access to exclusive discounts, offers and prizes along the way.
How it works
The mobile passport brings winning producers right to your fingertips. Simply sign up and receive the pass via text or email. As you visit, the webpage will validate your location and unlock 100 points with each winery check-in. New to the 2023 pass, you can check-in monthly at your favorite producers for even more points.
As you travel along the trail, you'll find one-of-a-kind offers and discounts at participating locations. From complimentary tastings or bonus pours to free cheese pairings and big savings on bottle purchases, users have access to unique deals. Even better, each discount or offer redemption will earn you an extra 50 points, valid for one time use per offer.
Head to the rewards section of the trail to see the prizes up for grabs. Choose to save up your points for #vawine swag, or enter monthly raffles with just 25 points for a chance to win experiences and prize giveaways. That's four entries with just one winery visit. The raffles will change each month and range from seasonal bundles, gift cards to wineries and even tickets to the 2024 Governor's Cup Gala.
Get started today to follow the trail to discover award-winning wines that embody the grace, grit and experimental spirit of Virginia.
2023 Prizes:
More Virginia Wine Stories