May 18, 2021
Welcome to Virginia Wine Country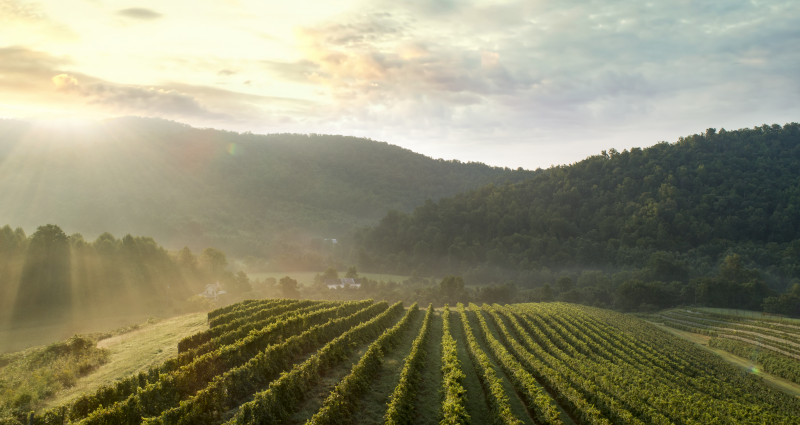 From local wine lovers to travelers venturing near and far, Virginia Wine Country is ready to welcome you as you indulge in all our region has to offer.
Virginia's bucolic vineyards have offered many a moment of relaxation in the face of the challenges this year. As you begin traveling and exploring again, here are all ways you can prepare to experience Virginia Wine Country.
Taste Virginia and discover your favorites
Virginia Wine is rich in history. Now, with over 4,000 acres of grapes that span the state, Virginia is home to 10 regions and 8 distinct AVAs. A community of farmers are crafting wines that embody the grace, grit and experimental spirit of Virginia.
Learn more about the diverse range of varietals offered here in Virginia. Still unsure of what to try? Use the below guides to help find your ideal glass of Virginia wine.
Search for offerings to match your preferences. When browsing Virginia wineries, you can search by food offerings, overnight stays, pet friendly, child friendly and more. Once you've found a Virginia varietal to try, you can also search by wine types to find a winery that serves your wine of choice.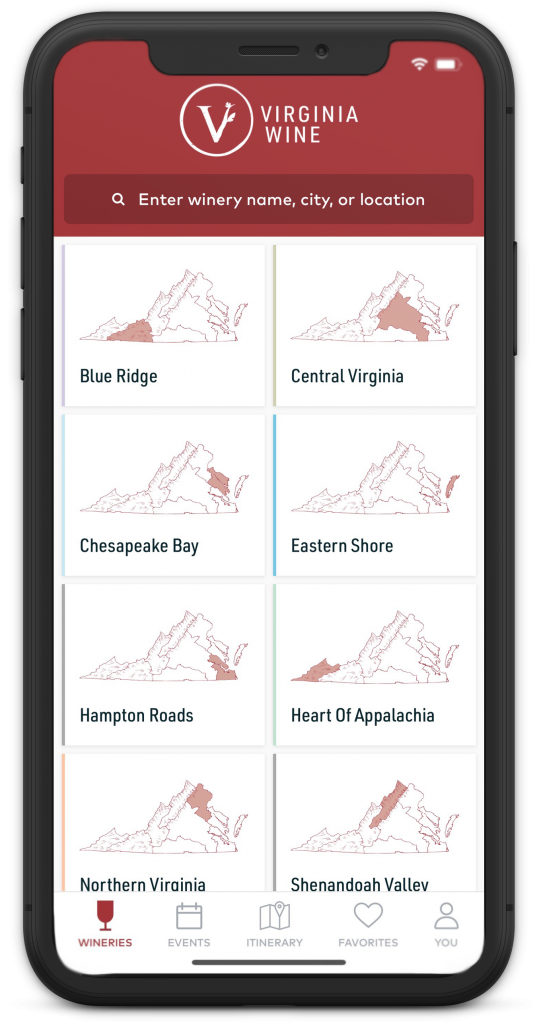 Plot your itinerary using the Virginia Wine app
Registering on virginiawine.org gives you access to personalize your Virginia Wine experience. From creating and saving itineraries to opting-in to receive updates for upcoming events at your favorite wineries, your next adventure awaits.
Downloading the Virginia Wine app to your mobile device allows for quick and easy access to saved itineraries, event details and wine region maps. Once you start favoriting your go-to stops, you can easily add and optimize your wine country route.
Wherever you are in Virginia, you're never far from a winery. Use the app at any time to find nearby locations and discover new favorite stops.
Or let the Gold Medal Wine Trail do the planning for you
With over 300 diverse wineries across the Commonwealth, there are many great options to choose from when planning your next excursion. Use the Gold Medal Wine Trail to narrow the scope of your search and taste award-winning wines.
All participating wineries received a gold medal for at least one wine in the 2021 Virginia Governor's Cup, one of the nation's most stringent wine competitions. With a free sign-up, you receive exclusive access to special discounts and prizes all for visiting some of the best Virginia wineries.
Find events and festivals near you
In-person events and festivals are coming back to wineries near you. Search by location or event type to find gatherings of all kinds. If you're planning to visit wine country at a future date, find events ahead of time sure to make the most of your trip.
More Virginia Wine Stories