December 28, 2022
A Toast to Virginia Bubbly
Popping open a bottle of bubbles elevates any celebration, whether it be holiday gatherings, ringing in the new year or commemorating a special occasion. And, with an increase in sparkling wines being produced across Virginia, there's even more reason to sip on sparkling wines regularly.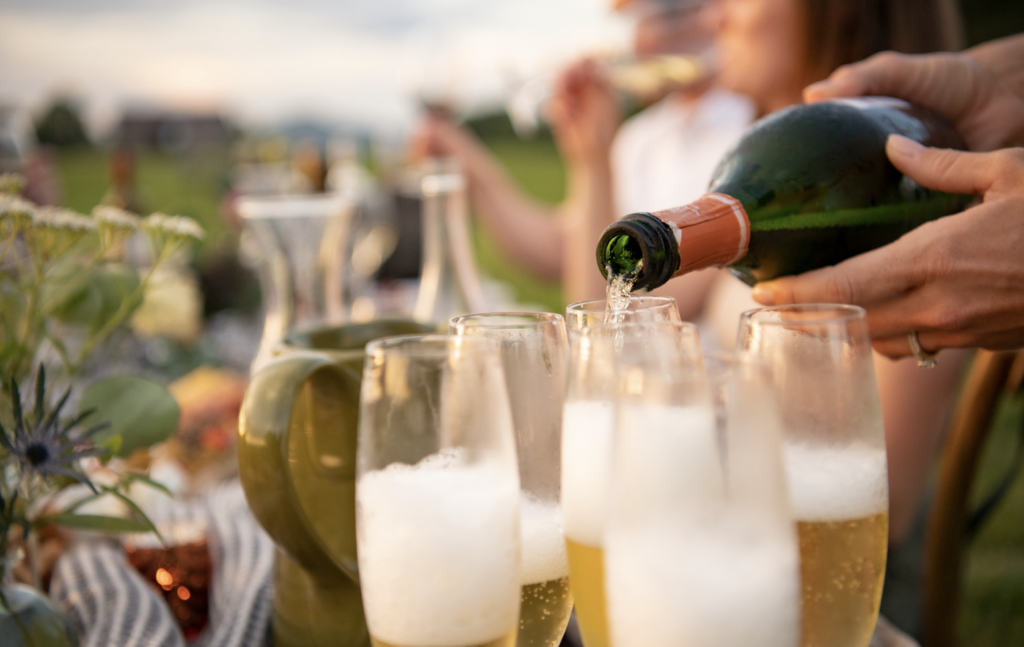 Like the reds and whites made across the commonwealth, the sparkling wines here are varied– from the type of grapes bottled, production styles and overall flavors. You'll find sparkling wines produced in the traditional method that rival well-known bottles of Champagne to refreshing bottles of VA Pét-Nat that are as diverse as Virginia's wine-growing conditions. No matter the type, you'll find that these Virginia sparkling wines express the craftsmanship and dedication of its winemaking community.
Over 40 wineries in the state are offering sparkling wines, a number that continues to grow. Virginia Wine expert Jason Tesauro of the Modern Gentleman set out to taste many of them and made "some eye-opening discoveries."
Weighing in on Virginia's ability to experiment with bubbles Tesauro shared, "Good luck finding a quirky, Malvasia Bianca–based Pét-Nat anywhere in France. Early Mountain Vineyards makes one for under $35. Sparkling semi-sweet Traminette? Try Mountain Rose Vineyard's Kelliokee. How about a steampunk-fused, Lambrusco-style, Tannat sparking red? Horton's got one that California wine icon Randall Grahm described as: "Think linebacker in a tutu." Minus Champagne's legacy rules, Virginia is free to sparkle just about anything."
He went on to add that "The range and craftsmanship are well worth your palate and pocketbook. Virginia sparklings land in three basic categories: Fun Fizz, Bangin Bubs and Serious Stuff." Which he breaks down as:
The FF wines are solid quaffers that require no special glass, occasion, or pairing. Just pop 'n serve.
The BBs are sparkies befitting delicious moments with a little more fuss made over proper serving temperature and what else is on the table.
The Serious Stuff is just what you think. Whether as an elegant aperitif or paired with a chef's course, these are finessed gems that'll make you forget your fascination with Frenchies in a flash.
Sparkling wine isn't just trending among Virginia producers, the number of Americans enjoying sparkling wine has risen by 30% in the past few years according to findings from Wine Intelligence, a division of IWSR Group. Part of Virginia's growth in the sparkling wine category owes thanks to efforts from producers like The Virginia Sparkling Co. which offers access to the special equipment and winemaking expertise required to bottle sparkling wines. Meaning access to Virginia sparkling wine will continue to increase– so the next time you're venturing to wine country or to a featured retailer be sure to stock up and raise a toast with Virginia bubbly.
More Virginia Wine Stories