As the warmer seasons fade, glasses are often filled with heartier reds. But winter isn't just for red wines.
Stay cozy with Virginia's diverse white wines perfect for pairing or enjoying on their own. From full-bodied whites to sparkling and cider, your new favorite glass awaits.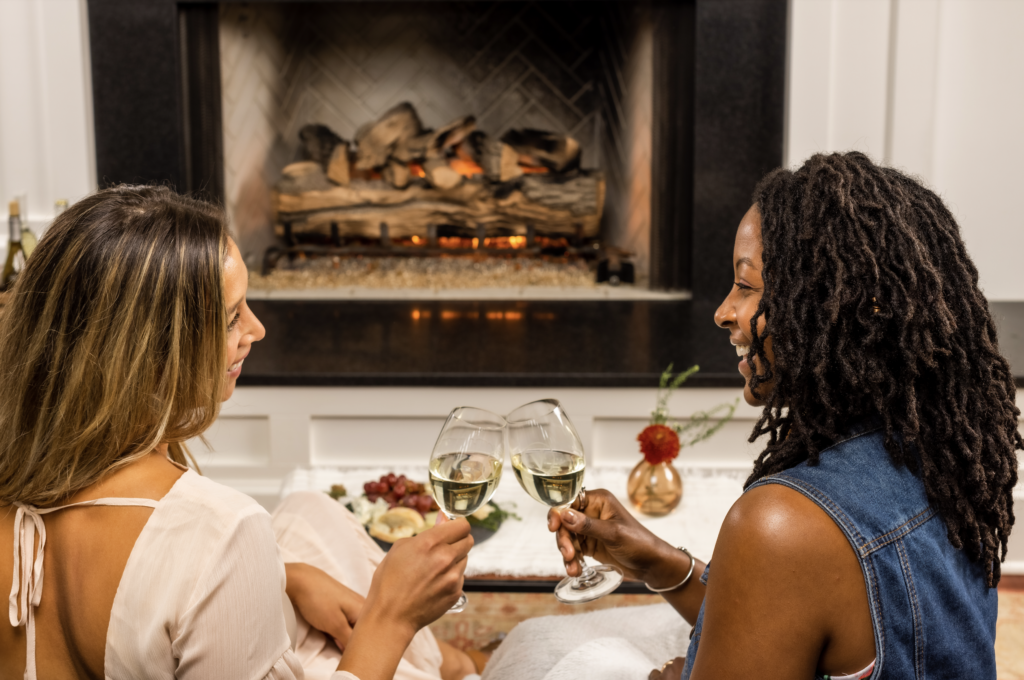 Virginia Wine has so much to offer. With more than 30 grape varieties grown in Virginia's vineyards used to make wines of all colors and styles—from dry to sweet and still to sparkling—there are options for every celebration or cozy night in.
Winter, filled with holiday events, nights by the fire and toasts with family and friends, is not the time to limit yourself. Especially when Virginia producers are pushing the limits and experimenting in new ways.
Quickly growing acclaim, Petit Manseng is commonly made as either an off-dry or dessert wine rich with fruit and spice expression. Orange wines, described as white wines made in a red wine style (with extended skin contact), are growing in popularity, too. Chardonnays made in oaked and unoaked styles provide a wide array of pairing opportunities. Sparkling wine, a time honored tradition during the holidays, is made from a variety of grapes and styles. There are countless other varietals, unique white blends and ciders, too, that belong on your table.
Find out more, including where to purchase your favorite bottles to stock up for every occasion. Here are just a few options, along with suggested pairings, to help get you through the season: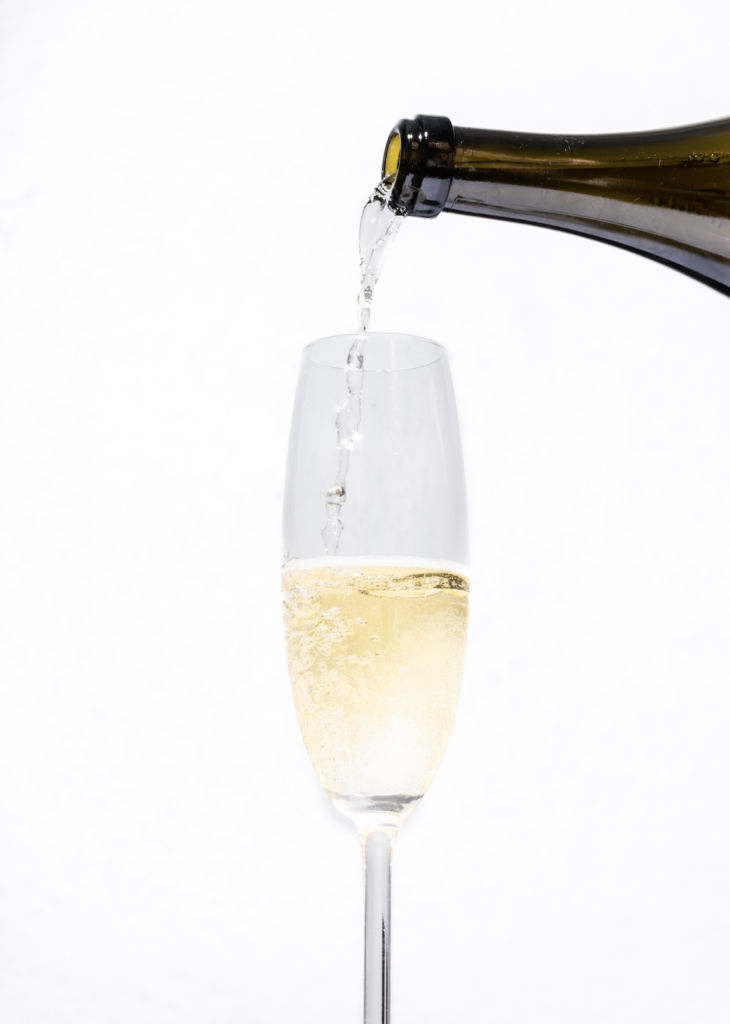 With mouthwatering acidity and palate cleansing bubbles, sparklers are among the most food friendly wines. The celebratory nature of a bottle of bubbles also turns every meal into a special occasion.
Pair with: The universal donor of the food and wine pairing world, sparkling wines pair with just about everything! Consider enjoying it alongside a piping hot baked brie or using it as a way to kick off the meal.
Rich flavors of tropical fruits like papaya, mango, and pineapple are often mingled with notes of ripe stone fruits in Virginia's Petit Manseng. Whether dry or slightly sweet, the wines are always light on the palate thanks to a deliciously electric acidity.
Pair with: The high acidity of Petit Manseng makes it an easy choice for a cheese and charcuterie board. It keeps your palate fresh and whets your appetite for the meal to come! It's also a great partner to a Virginia baked ham (with pineapple, of course!).
With time spent aging in new oak barrels, this style of Chardonnay fills the glass with warming flavors and aromas of baking spices, oak, and fresh butter…perfect for cold weather.
Pair with: A classic and simple chicken pot pie paired with a rich oaked Chardonnay is a match made in heaven. It is also great with buttery seafood such as shrimp or lobster.
Lighter and more restrained, Chardonnay which has been made in stainless steel or old oak shows delicate apple, white flower, and mineral character supported by a crisp acidic freshness.
Pair with: Find yourself a bushel of Virginia oysters from the Chesapeake Bay and a bottle of unoaked Chardonnay and you've got a party! The wine's briny acidity pairs so well with our local shellfish.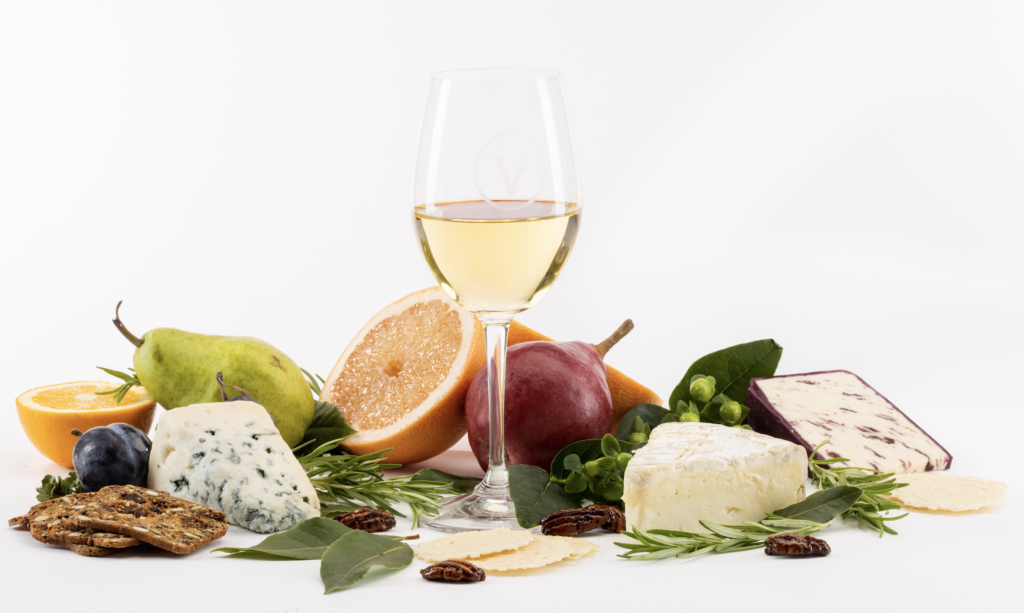 Vividly aromatic, every glass of Virginia Viognier is loaded with peaches, apricots, honeysuckle, melons, and spice. Bold and richly textured, these wines shine on the winter table alongside a range of dishes.
Pair with: Rich and full bodied, these wines pair well with similarly rich dishes. Sweet potato casserole is always great. Or chicken/turkey salad made with last night's leftovers!
Orange Wines
As a white wine produced using the grapes' skins, much like a red wine, orange wines bring enhanced aromas and flavors as well as food friendly tannins to the palate.
Pair with: Intensely flavored with soft tannins, these wines are great with poultry such as duck or turkey. Be sure not to serve these wines too cold! Around 55-60 degrees is best.
Known for bright aromas of citrus, crunchy herbaceous notes, and thirst quenching acidity, it is easy to understand why Virginia Sauvignon Blanc is becoming so popular.
Pair with: Finding a wine for salad can be tough, but look no further than Virginia Sauvignon Blanc. A winter salad with goat cheese and a Dijon vinaigrette would be a great pairing.
Virginia's dessert wines are produced from a wide range of grape varieties and winemaking techniques. The best examples balance decadent sweetness with uplifting acidity that carries dense layers of ripe fruit with each sip.
Pair with: For fans of the sweet and salty, pair these wines with a selection of soft local cheeses! For the sweet tooth, vanilla crème brûlée or fresh fruit and homemade whipped cream will really hit the spot.
Made from an incredible range of apple varieties, Virginia's ciders are as diverse as its wines. Ranging from light and crisp to richly textured, you can expect bright fruit, delicate spice, and refreshing effervescence in nearly every bottle.
Pair With: Lighter bodied ciders make for great aperitifs and pair well with delicate dishes. Heavier styles are perfect companions for baked chicken, glazed ham, or roasted pork loin, especially when prepared with spiced apple.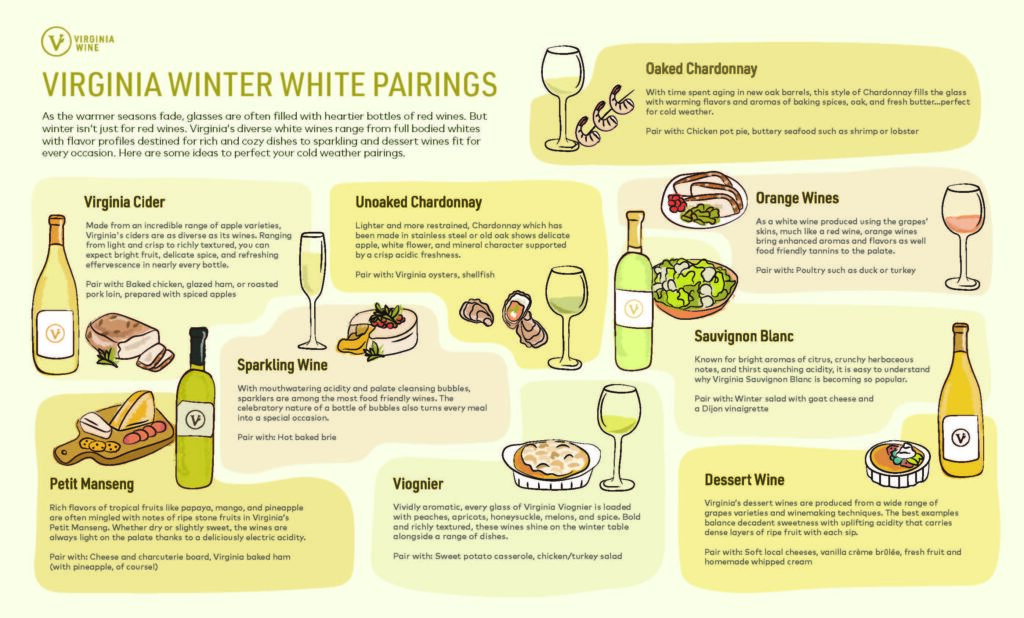 More Virginia Wine Stories