October 15, 2019
Virginia's Emerging Varieties — On the Table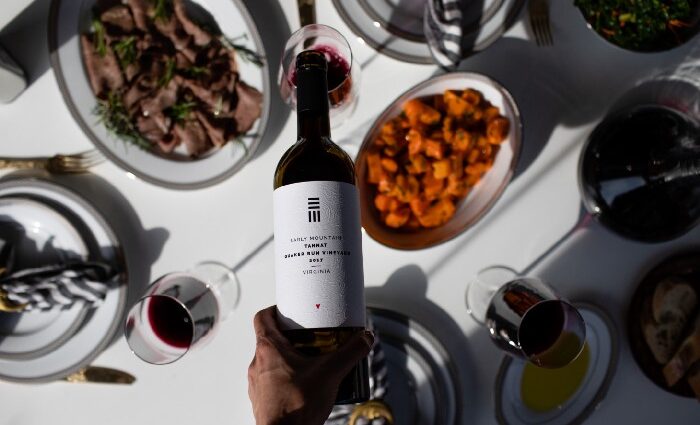 A guest post by Aileen Sevier, DipWSET
As the modern era of Virginia wine enters its adolescence, innovative and determined boutique producers have been experimenting to determine and define the grapes best suited to their vineyards. While this is still a work in process, Petit Manseng and Tannat have each emerged as interesting for their thick skins and ability to withstand disease in Virginia's moist climate.
As a wine drinker, I have been exploring these same varieties to understand where they fit on the table, both the occasions that demand I reach for them and dinner options that scream for their unique style and flavors. What Petit Manseng and Tannat share is strong personality, an intensity of flavor and structure that in addition to their suitableness in the vineyard will give them a unique place in the market.
Petit Manseng is the grape that brought me into Virginia wine. I'd only tasted it prior in a legendary bottle, Didier Dagueneau's Jurançon, Les Jardins de Babylon, when visiting his winery in the Loire. While different flavors, Petit Manseng shares some of the structure of the Chenin Blanc I'd been tasting throughout my travels and offers a similar range of styles in Virginia, ranging from fully sweet dessert wines to demi sec bottlings; from very full bodied, tropical and oak kissed styles to fruit led and bone-dry.
While the pairings also range, Petit Manseng is primarily a winter white. The full body, intensity and richness offer a warming jolt in cold weather and I prefer it only moderately chilled to allow its layers of flavor to fully emerge. But where Petit Manseng really shines is paired with fall and winter fare. Touted as a "red grape in white clothing" it veers easily into red wine pairing country and will quickly overwhelm delicate seafood such as crab or white fish. Herb crusted pork with roasted apples comes to mind. As does spiced foods such as a grilled Merguez sausage or even Indian curries where even dry Petit Manseng with its intensity of fruit will both stand up and cool spice. Last winter, we poured the Early Mountain Petit Manseng at a cassoulet party to stunning result — the bright acid cut the richness and brightened the earthy richness of the dish and the full body could match the intense texture.
Tannat offers much of the same full throttle intensity of Petit Manseng but with the added element of an intense tannic structure. Its high acidity, high tannin and intense color offer critical elements in Virginia's blends that first drove its plantings, but as winemakers learn to tame it, varietal bottlings have also emerged. I recently tasted through a line-up of Tannat from around the world, including bottles from Uruguay, Madiran, Paso Robles, and Virginia and most led with the rusticity expected from the grape. But in my favorites, the dark fruit character had smoothed out the rough edges with an added mid-palate suppleness that made the wines interesting and complete.
With its intensity of fruit, tannin and acid, I can't even think about Tannat during the summer, but will reach for them once rich stews and grilled roasts are again back on the table. As in Uruguay, it will be an ideal pairing where Chimichurri salsas with their bright acids would throw off a lower acid Cabernet Sauvignon or Syrah — this is where Tannat can shine. And where Tannat can really branch out is with dishes that have fruit or Asian spiced flavors. Glazed spareribs come to mind, especially when studded with anise or clove. The richness of duck confit also benefits from Tannat's bright acidity and helps moderate the intensity of the wine.
I encourage you to experiment and explore, especially as we're heading into fall and winter fare where Petit Manseng and Tannat each offer versatility and breadth on the table.
---
Aileen Sevier combines her passion for wine with a love of business strategy and storytelling while overseeing marketing for Early Mountain. She previously managed a portfolio of iconic family-owned wineries from around the world at Terlato Wines International and directed the beverage program at Legal Sea Foods, a multi-unit restaurant group renowned for its wine program. Aileen graduated with honors from Kenyon College with a BA in Anthropology and Asian Studies and Brandeis University's International MBA program. She is currently a student in the prestigious Master of Wine program. She loves to travel, especially now that her twin daughters Elodie and Muriel can come along for the adventure.
More Virginia Wine Stories