July 27, 2023
Viognier: Bright & Vibrant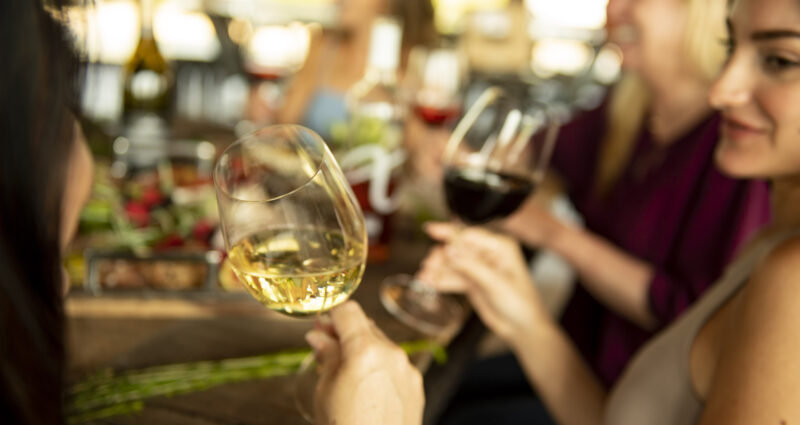 Through Virginia Wine's evolution, winemakers have discovered the grape varieties and wines that are defining the state. Crafting wines that could not have come from any other time or place. Wines that are elegant, expressive and unmistakably Virginia.
With over thirty 30 varieties planted, winemakers and viticulturists have become fluent in the language of the land, planting grapes that are well suited to Virginia's varied soils and farming quality fruit year after year.
Many of the note-worthy grapes you'll find here are unsung heroes who have grown to greatness. Grapes like Viognier, Cabernet Franc, Petit Manseng and Petit Verdot– relative obscurities and bit-players in Old World wine traditions—are taking center stage in Virginia. These grapes are much like the story of Virginia Wine (and the story of Virginia itself), a tale of secondary characters from the Old World who learned to thrive in a new environment. Read along as we uncover more about the grapes defining Virginia.
---
Viognier: Bright & Vibrant
This note-worthy Virginia white entices with its exuberant fragrance and flavor
Viognier was once an obscure member of the wine world but has reclaimed its place amongst wine lovers. Recognized for its intense aromatics and floral characteristics, Viognier thrives in warmer climates where it can fully-ripen.
Viognier's story traces back over two thousand years, making it one of the oldest grape varieties in the world. The grape's origins are believed to lie in the picturesque northern Rhône region of France where it was able to flourish in small quantities, producing wines that were cherished by local winemakers for their opulent flavors. After nearing extinction, the grapes expanded and began to receive international acclaim in the 20th century. The newly-found recognition led to Viognier's global expansion, finding new homes in regions like Australia, South Africa, and throughout the US– where Viognier has quickly developed into one of Virginia's most popular varietals.
Viognier is a full-bodied dry white wine with tantalizing aromas of peach, rose petal, and honeysuckle. Depending on the winemaker's choice, flavors can range from a just barely ripe mango to sweeter style with a creamy mouthfeel and notes of candied fruit and vanilla.
Viognier is excellent with seafood, especially from in-and-around Virginia, like crab, shrimp, and roasted oysters. Its flavors also come to life with corn chowders, spicy flavors, curries and pad thai. Bright and vibrant, Virginia Viognier is equally at home on a white tablecloth with poached lobster and triple cream cheeses as it is on a picnic blanket with fried chicken and deviled eggs.
Whether you're savoring a glass of Viognier on a sunny afternoon or pairing it with a sumptuous meal, it promises a very Virginian experience.
More Virginia Wine Stories