May 3, 2022
A Reason to Celebrate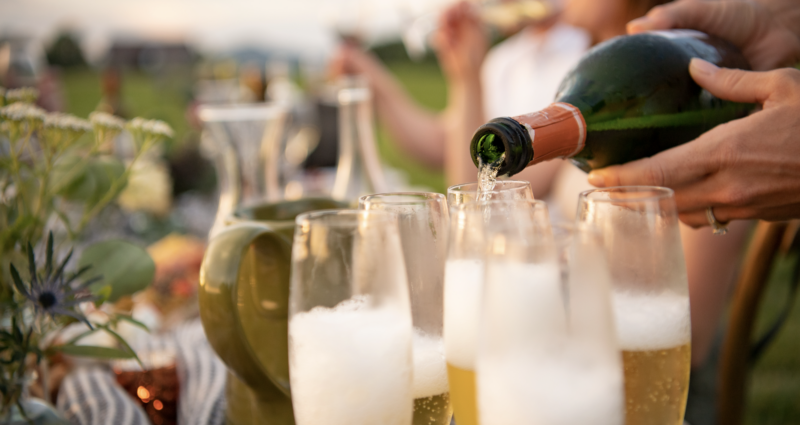 Whether it's an official holiday, a pre-planned weekend trip or simply a beautiful day spent indulging in Virginia Wine, time spent in Virginia Wine Country is special no matter the occasion. After all, Virginia Wine is a reason to celebrate in and of itself.
Plan ahead
One of the best ways to plan a trip to remember is to use customizable Virginia Wine resources. Visit virginiawine.org and sign up for an account to create itineraries, favorite your ideal stops along the way, and search for offerings and other winery details.
Planning ahead doesn't have to mean weeks in advance. Download the Virginia Wine app to access the map and saved itineraries to find nearby stops along the way.
If you want to ensure an extra accommodating visit, consider calling ahead to make a reservation. Many wineries offer special reserve tastings, private rooms and outdoor areas and more.
Particularly, if you're looking for an overnight stay to extend your visit, check out on-site inns and suites designed for every wine lover. When you stay in wine country, you never have to leave. Find an extensive list here.
Discover what you like
If you're new to Virginia Wine or looking to expand your local palate, don't be afraid to explore and discover new favorites. Visit the below resources to start checking things off your list to try!
Virginiawine.org is another way to plan and search by features to help identify your ideal stop. Narrow your search by food and wine offerings, child and/or pet friendly, overnight stays, reservations and more.
Savor your favorites
When you create a Virginia Wine account, you can easily view and revisit your favorites. You can also sign up to receive updates about upcoming events, releases and special announcements from your top wineries.
Keeping a running list of favorites is a great way to pick and choose for future trips. Once you discover your favorites, join a wine club and you'll often be the first to try new releases and receive special offers.
View Seasonal & Holiday Blogs
If you're visiting for an occasion like Mother's Day, Valentine's Day or some of our favorite wine holidays, take a look at some of our past blogs to help make those days extra special.
Mother's Day
Summer / Rosé Day
Virginia Wine Month
Winter Occasions
Valentine's Day
More Virginia Wine Stories