August 25, 2021
Virginia Wine Through the Regions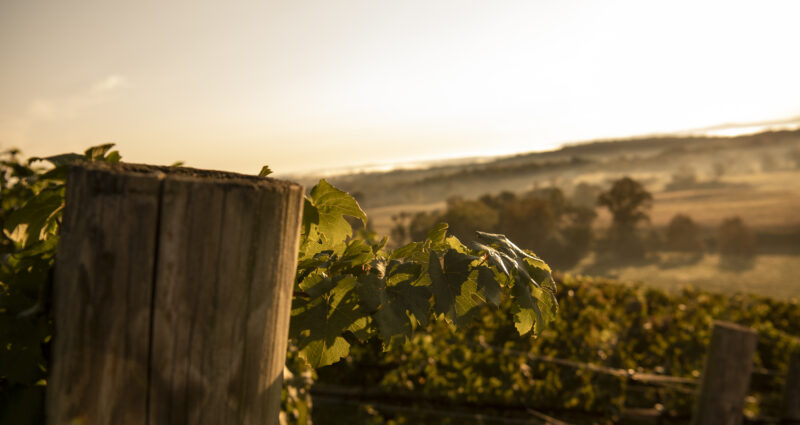 From rocky mountain slopes to sandy waterfront shores, Virginia is brimming with character—and the state's vintners are harnessing their experimental spirit to uncover it. The state is home to over 4,000 acres of grapes, ten regions and eight AVAs—not to mention several bustling wine trails to help guide you through Virginia Wine Country. 
Discover the exceptionally diverse and unique regions across the Commonwealth.
In the Blue Ridge region, you'll find stunning mountainside views and rolling hills of the Piedmont. The Blue Ridge Parkway, known as America's favorite drive, takes you on a winding journey to your favorite wine destination. As David Stanley of Stanburn Winery points out, "You don't happen upon our vineyards, you seek them out." 
Vineyards in the Blue Ridge tend to benefit from cooler springs which translates to later bud breaks and a longer growing season, as well as the higher elevation that brings lower humidity. Though balancing the extremes of rainfall and ensuring nutrient-rich growth with a unique mix of granite and red clay prove to be difficult.
According to Rik Obiso, owner of Whitebarrel Winery, the climate is well suited for hybrid grapes—making some of the state's most impressive Vidal Blanc, Chambourcin, and Petit Manseng and Petit Verdot. 
Perhaps, the most special characteristic of the region is the laid back and welcoming atmosphere. "We are a region of wineries that takes on the characteristics of the communities because we are part of the community," said Stanley. "We grew up here, we toiled here and we built something here for our families and our community. The community is central to what we do and we want to make wine less intimidating and more inviting to everyone."
This focus on community naturally fosters collaboration between the region's sixteen farm wineries. Stanburn Winery benefited from a relationship with Chateau Morrisette Winery that started 22 years ago, and, to this day, works closely with them among others. "We are a small community of people who care about each other, our businesses, and our families," said Stanley.
While visiting this warm and friendly region, be sure to check out the plethora of outdoor activities including some of the state's best hiking and mountain biking trails. Then, reward yourself after a day's exploration with a local glass of Virginia Wine.
As one of the leading wine regions in the state with 80+ farm wineries, Central Virginia is a wine lover's dream. Christine Vrooman of Ankida Ridge Vineyards aptly said, "A visitor could spend weeks in our region and experience something different, but equally enjoyable, every day of their visit."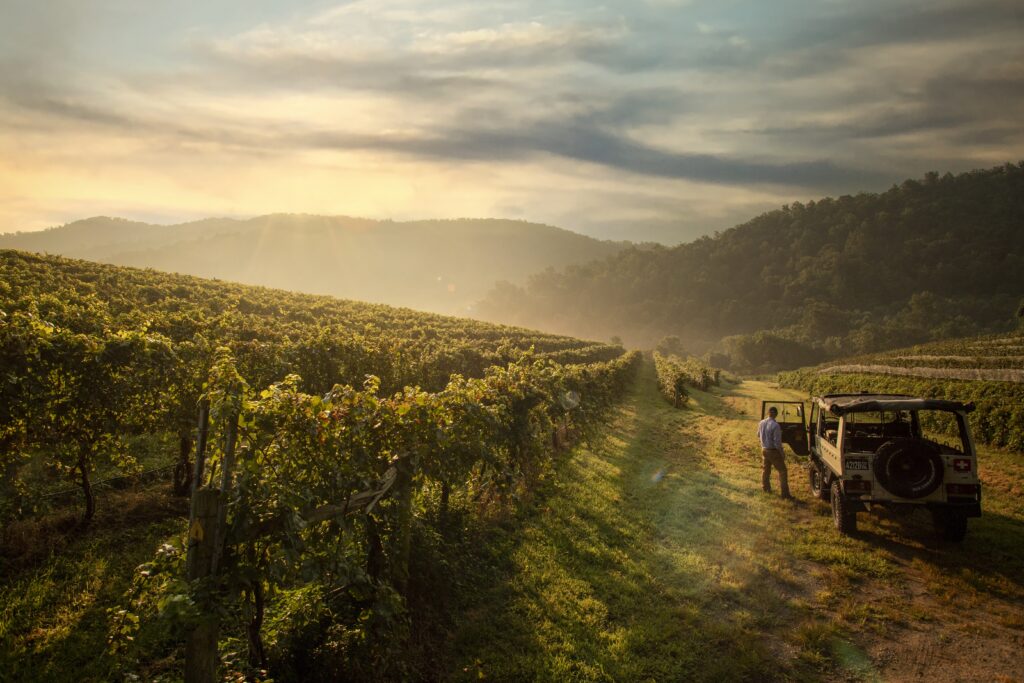 In addition to offering a variety of experiences, Central Virginia boasts vastly different terrains and soils that allow for a wide variety of grapes to be grown successfully. "We have such a diverse range of soils, elevations and terroirs that produce distinctive wines," said Stephen Barnard, winemaker at Keswick Vineyards and president of the Monticello Wine Trail. "You can find world class examples of traditional varieties such as Merlot, Cab Franc, Chardonnay and blends, but there are also fantastic examples of Albariño, Tannat, Gruner Veltliner, Sauvignon Blanc and Roussanne, just to name a few."
These distinctive wines are rooted in place and take on the characteristics of the region. Scott Elliff, owner of DuCard Vineyards, shares some of his favorite wines found in Central Virginia— "Cabernet Franc expresses rich red berries and black pepper spiciness in the best year and Viognier showcases peach and honeysuckle that also dominate the terrain." 
In addition to world-class wines, the region is known for its rich history, unique tasting experiences and events that elevate the overall experience. Visit polo at King Family Vineyards, enjoy older vintages of fine wine in Barboursville's Library Room and stay in the cottages at Afton Mountain Vineyards or The Farmhouse at Veritas. 
The Monticello Wine Trail, one of the state's premiere wine trails, includes many of these wineries and takes you on a tour through the "Birthplace of American Wine," inspired by Thomas Jefferson's vision of grape growing and winemaking. 
While this region's history can be tied back to founding fathers, it's the modern industry that has taken root and offers much to be discovered. "The experimentation mindset is alive and well among the growers and winemakers of the region," said Vrooman. "New, interesting varieties are being planted across the region and crafted into fun, unique wines every day."
Coastal VA
Three distinct Virginia wine regions are found on the coast—Chesapeake Bay, Eastern Shore and Hampton Roads—and provide a unique experience filled with water views and activities, fresh seafood pairings and more. 
The marine effect impacts the weather, the soil and, ultimately, the wine here. Being surrounded by the Chesapeake Bay and rivers that flow into it, these regions are resistant to cold winters that can lead to vineyard loss and spring frosts. Though due to the proximity to the coast, many eastern wineries can be susceptible to the effects of hurricanes and tropical storms.
Another benefit to their geographic location is being close to fresh caught local seafood. In the Chesapeake Bay region, Ingleside Vineyards takes full advantage of local collaboration, "We enjoy all of the seafood the bay has to offer, from the Blue Crab to the Oyster to Rockfish," said Chris Flemer. "At Ingleside, we even have a series of wines called the Chesapeake Series which celebrates the flora and fauna of the Bay."
Chatham Vineyards on Church Creek is another shining example of using the local catch for unique and fresh pairings. During the COVID-19 pandemic, they offered "Wine & Brine To Go," a promotion that featured Eastern Shore oysters for pick-up right out of their tasting room, along with bottles of your choice. Oyster season is in full swing in Virginia every Fall, so look out for upcoming events across the region.
In addition to award-winning wine and fresh local pairings, the region has a lot to offer in terms of activities and attractions, sight-seeing and historic inns. "In this region we are tremendously rich in history and surrounded by water," said Kenny Bumbaco of The Williamsburg Winery in Hampton Roads. "Visitors can expect some lovely wines and fresh seafood. We are sandwiched between Virginia Beach and Richmond; both of which offer a lively nightlife, great restaurants, museums and various attractions." 
Take a closer look at each of the three regions found in coastal Virginia:
Tucked away in the southwest corner of Virginia, you'll find the Heart of Appalachia—a region designed for exploring. Rugged mountains, rushing rivers and countless natural wonders, Suzanne Lawson at MountainRose Vineyard, suggests "throwing away the itinerary and letting the Appalachian backroads be your guide." 
The lower humidity and cooler summer temperatures creates less disease pressure on the fruit and delayed ripening, a climate that favors Chambourcin, Vidal Blanc and Riesling grapes. The longer growing season makes for balanced and fresh wines.
The Heart of Appalachia offers a secluded and quiet retreat with one-of-a-kind wine experiences. For those looking to spend the weekend or make a trip of it, the Spirits of the Clinch Trail is a collaborative effort that connects wineries, distilleries, cideries and breweries from across the region. 
"When planning a visit to the Heart of Appalachia, prepare to be pleasantly surprised by the friendliness, lack of crowds, and the spectacular scenery," said Lawson. "The area is an outdoor wonderland, while also offering a diverse range of experiences for those who are not as active in the outdoors. Come visit, experience the award-winning wines, and maybe, just maybe, you'll decide you don't want to leave."
The Northern Virginia wine region offers a peaceful escape from the nearby D.C. Metropolitan area into a historic, countryside oasis. The prime location, connecting millions with Virginia wines in less than an hour's drive, and its long-standing agricultural roots make this region an attractive destination for any getaway.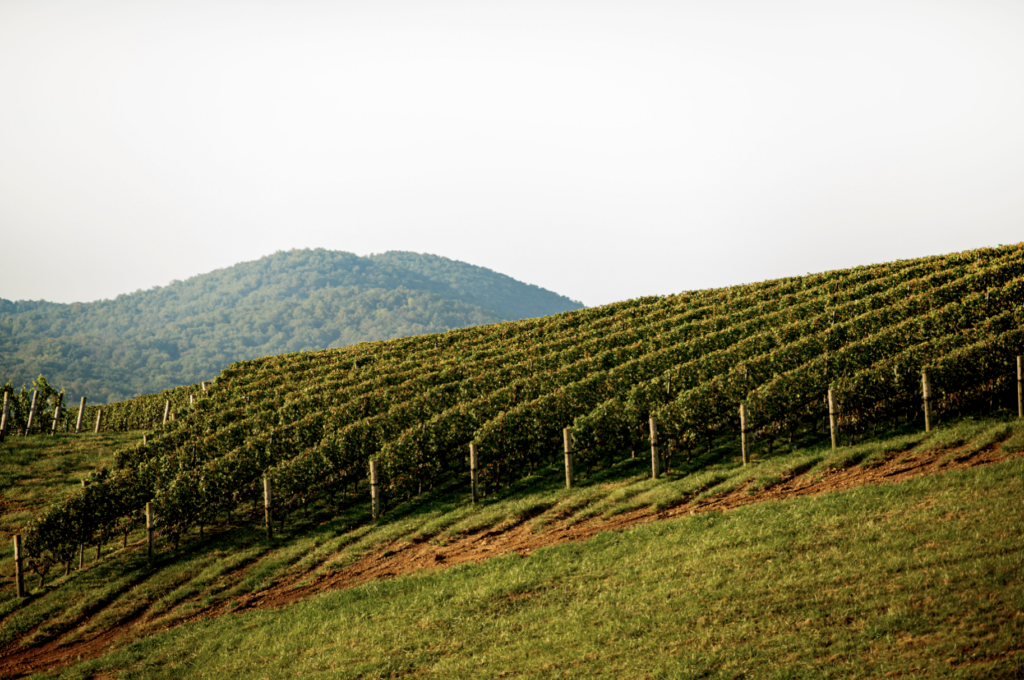 Paradise Springs Owner Kirk Wiles agrees, "I believe what makes Northern Virginia so special is its connectivity to the people. Being so close to a large metropolitan area, the opportunity to connect Virginia wines to the rest of the world lies at our fingertips through the relationships we forge in our tasting rooms." 
It helps that the wine region with 90+ farm wineries is making award-winning wines to boot. Jenni McCloud, owner of Chrysalis Vineyards, says white varietals are where Northern Virginia really shines. "Since we're cooler than a lot of other regions, we are producing wines that are attractively fruit forward and expressive. We work with several grapes, but Norton, Albariño and Viognier do really well for us."
The unpredictable Virginia climate is crucial to the success of these grapes. In Northern Virginia, vineyard crews closely monitor the vines to protect against late frosts. "Growing grapes in Northern Virginia can sometimes be challenging but is never boring," said Rick Tagg, winemaker at Delaplane Cellars.
Being so close to the densely-populated city, it's easy to forget that wineries in the area are leading the charge in providing value-added agriculture. For example, Chrysalis Vineyards is offering more than a taste of wine with an operating a dairy farm to serve fresh local cheeses, milk and other products from their bakery. "There's such a beauty in cultivating grapes and making wines," said McCloud. "We can supplement that beauty with other attractions and local products—food, cheese, bread—to make it a holistic, agricultural experience."
"What I like for people to learn and to know after their visit to Northern Virginia is that we are first and foremost farmers, and the land and the farming of that land is what results in their glass and that every year is different," said Tagg. Whether you're looking for the perfect day trip or an extended stay, the history, deep agricultural roots and award-winning wines are sure to steal the show.
As the oldest and largest AVA in the state, the Shenandoah Valley is producing some of the highest quality wines and still has one of the greatest potentials for growth.
Protected by the Blue Ridge and Allegheny Mountains, the Valley stays drier than most regions, is often safe from severe, late season weather and benefits from cooler temperatures and lower humidity. Lee Hartman, winemaker at Bluestone Vineyard, finds Chardonnay to be one of the best varietals to come out of the Shenandoah Valley. "Our higher elevation allows the grapes a chance to cool off in the evening, producing wines with some backbone and acidity. Whether it's Chardonnay, Riesling, Pinot Noir, I think all our wines can benefit from having that freshness and structure that we take from the cool nights and geology."
Though, cooler temperatures can be a double-edged sword. Frigid winters can lead to severe winter injury and loss of vines, and when spring comes around, late frosts nearing bud break can be detrimental. Collaboration and communication are key in the Valley to protect against weather and learn from fellow winemakers.
"Collaboration is both formal and informal. Formally, there is a Shenandoah Valley Wine Trail which holds monthly meetings, most of which have a technical session as part of the agenda," said Sally Cowal from Muse Vineyards. "Informally, we bring wine to share at our meetings and talk about our wines, successes and failures. We discuss weather forecasts and share updates with our winemaking neighbors and sometimes borrow or loan equipment and/or crews."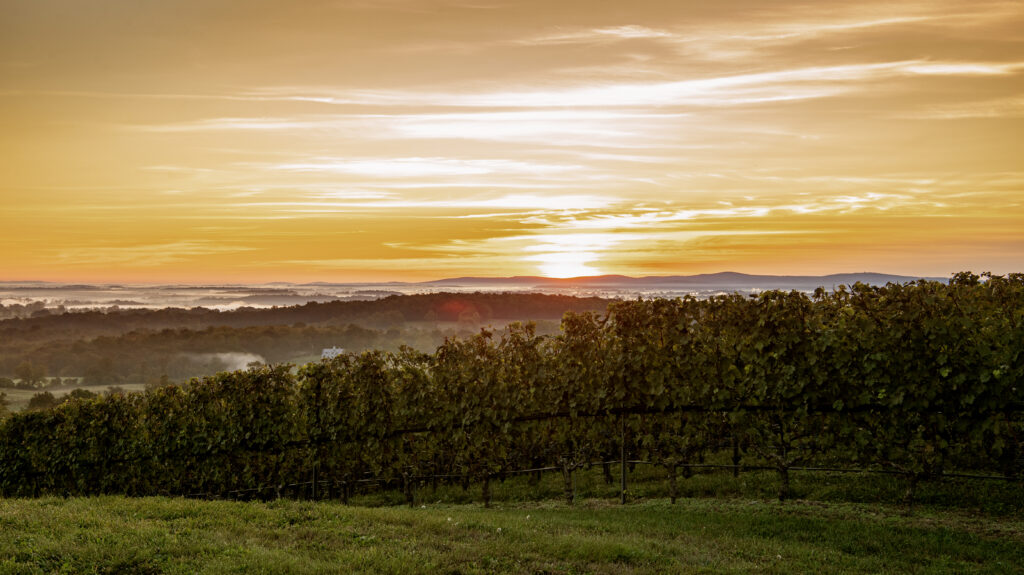 As the Shenandoah Valley continues to expand, winemakers from around the state are actively looking to the Valley to buy grapes, and more wineries are buying land and putting vines in the ground. 
Beyond the winemaking potential, visitors can expect great hospitality and views. "You should expect a warm and friendly reception," said Cowal. "From every vantage point, the views are exceptional with the Shenandoah River, the Blue Ridge, Allegheny and Massanutten Mountains."
"You might have to drive a little more between tastings, but fortunately everywhere you look is beautiful," said Hartman. "Being spread out also translates to less traffic in the tasting rooms, and while you'll find plenty of wineries producing Virginia Governor's Cup Case-worthy bottles, they are priced at a bargain. Wines, hotels, and restaurants are all more affordable in the Valley, making it the perfect visit for any occasion."
As one of the warmest parts of the state, Southern Virginia has a climate perfect for ripening reds to achieve balanced concentration. As a region susceptible to late season rains and hurricanes, the warmth helps speed up harvest and avoid harsh weather. Like much of coastal Virginia, Southern Virginia boasts a mix of sandy loam and clay soils, advantageous for growing grapes.
One of the biggest challenges for vineyards across the Commonwealth, including the South, is disease. Pierce disease is one such disease here that can damage the vines and stunt grape growth. Vineyard managers are adapting to plant more disease-resistant varietals and responsibly spray insecticides as needed.
Across Virginia, vineyard crews have to know their land intimately and be innovative to produce quality grapes. "You will find a wide variety of wine styles, with everything from traditional vinifera varietals to hybrid blends to American wines and even fruit wines," said Aubrey Rose of Rosemont Vineyards. "Along with some fun Virginia wines, you'll experience some of the best Southern hospitality, where most of the wineries are family run and the families are on site at all times to chat with visitors and talk about wine."
The ten unique wineries that make up the region are fairly spread out so you'll need some extra time to visit, but each stop will make you feel at home. Here, you'll be able to sit on a porch with your friends and family and sip the wines at your leisure while learning about the grapes that made their way into your glass.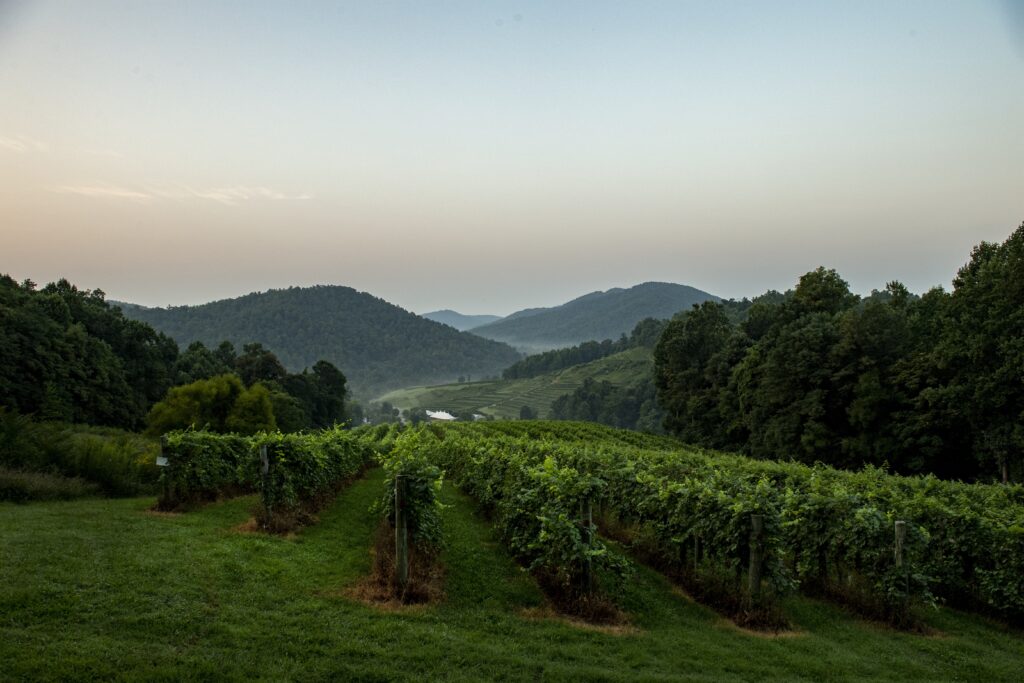 Last, but certainly not least, the Virginia Mountains region is a tourist's dream, especially for outdoor lovers. Encompassing the major cities of Roanoke, Salem and Lynchburg, several national parks, Smith Mountain Lake, and countless hiking trails, this region will connect you with some of the state's best wines along the way.
While the attractions might bring you to Virginia's Mountains, the wines will urge you to stay. The higher elevation brings lower humidity and cooler temperatures, ideal for grape growing. Experimentation is alive and well here, though the wine of choice tends to be Bordeaux blends and varietal wines made from Cabernet Sauvignon, Cabernet Franc and Merlot.
While there are some old favorites in the region, new owners and wineries in this region are starting to make their mark. Stoney Brook Vineyards and Winery, Troddenvale at Oakley Farm and Fables & Feathers Winery, formerly known as White Rock Vineyard & Winery, all opened within the last year and are looking to add to a region full of promise.
Once you get to a winery here, you'll be met with stunning mountain views and vineyard peaks towering more than 3,000 feet. Hike along the Appalachian Trail and cool off nearby with a refreshing local glass of wine. With 10+ farm wineries in the area to choose from, there's an ideal experience for everyone.
Request a Virginia Winery Guide to help plan your next trip through wine country.
More Virginia Wine Stories