May 19, 2023
A Look at What's Happening in Virginia's Vineyards
From winter dormancy to growing season and ultimately harvest, there's always something happening in Virginia's vineyards. The transition to the spring growing season and into the summer is a particularly exciting and crucial time for each vintage of #vawine as farmers battle the risk of frost, maintain the vines and await the ripening of each variety.
After talking with wineries and vineyards across the Commonwealth, a promising 2023 vintage is well underway.
Here's a snapshot.
Conditions always vary across the state thanks to Virginia's 10 diverse growing regions. Overall, there's a lot for vineyard managers and winemakers to feel optimistic about so far.
Each spring brings the threat of frost damage. Low temperatures after bud break can threaten the health of the vines. To protect the vines vineyard crews have worked swiftly and attentively — sometimes at all hours of the night.
"There were several early mornings this year, the crew had to set-up anti-frost candles around the vineyard to elevate the temperature among the vines," Pollak Vineyards shared. "Even so, we have made it through the frost season without any significant damage to this year's growth."
For some, this year's crop is even more substantial than normal.
"We are seeing a potentially large crop with many shoots having three clusters instead of the usual one or two," reported Jim Law at Linden Vineyards. "While this looks promising, it could actually mean more work for us as we may need to spend more time in the vineyard thinning down the number for clusters. Too big of a crop will reduce a wine's concentration and body."
Here's how it compares.
A notable difference in this year's vintage is the timeline. Warmer temperatures at the start of spring sped up the growth and development in the vineyard, leading to an earlier bud break. This left the buds and future grapes more susceptible to frost and cold mornings. Next in the growing cycle comes the formation of flower clusters and flowering, which seems a little ahead of schedule. 
"Plants are blooming in the second week of May," according to Horton Vineyards. "Our vineyard manager has not seen blooms this early in her 30 years of growing grapes in Virginia at our location. At this pace, we could be harvesting as early as mid-late July."
While things are moving fast, some claim that it's been less eventful than in years past.
"If it is warm and dry in early June, pollination should be good, resulting in full, healthy clusters," said Jim Law. "The most important time that determines quality is yet to come: August, September and October; the weather during flowering is always important."
Here's how the vineyards are evolving.
Just as the quality of Virginia Wine increases, so has the acreage and plantings of familiar favorites and new, experimental varieties. With over 5,000 acres planted and Cabernet Franc and Chardonnay leading the way, eleven different varieties are planted across more than 100 acres in the Commonwealth.
Cabernet Franc
Chardonnay
Petit Verdot
Merlot
Cabernet Sauvignon
Viognier
Vidal Blanc
Petit Manseng
Chambourcin
Norton
Sauvignon Blanc
In addition to these leading varieties, many vineyards are experimenting with new varieties that could thrive in Virginia. Linden's Climate Change Experimental Vineyard is just one example of the innovation happening in the vineyards. Twenty-two different varieties from 7 different countries make up the vineyard, and after years of planning and cultivation, the results are beginning to come to fruition.
Briede Family Vineyards shared about trials with unique hybrids varieties not traditionally found in Virginia, including La Cresent, Marquette, Cayuga White, and Arandell. While hybrids like Vidal Blanc and Chambourcin are more commonly planted, the possibilities are enticing. Hickory Hill Vineyards just planted a new grape: Marselan, a cross of Cabernet Sauvignon and Grenache. Wineries like these are pushing the envelope to ensure a bright and unique future for Virginia Wine. These unique plantings highlight the promise of Virginia's diverse grape varieties.
It's also more than the grapes… vineyards are utilizing cutting-edge technology to increase plantings and keep the vineyards healthy. For example, Pollak Vineyards have established a second vineyard site that will eventually add an additional forty acres of plantings. The first 10 were planted earlier this spring with the help of a GPS-guided transplanter — a new advancement for Pollak that will go a long way to help meet the increasing demand for estate-grown grapes.
Here's a look for yourself.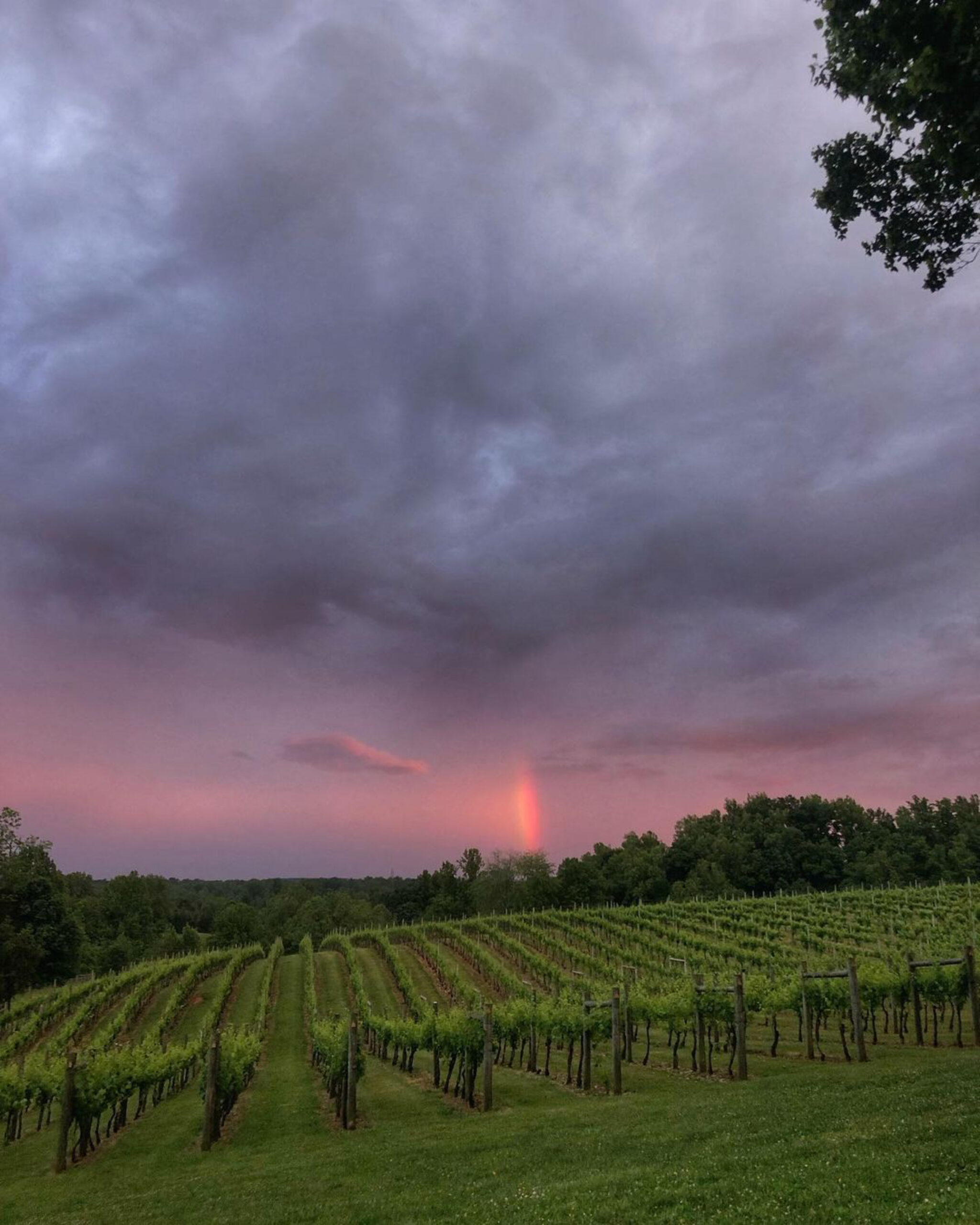 More Virginia Wine Stories