October 11, 2022
Celebrating Virginia's Home-Grown Holiday: Harvest Party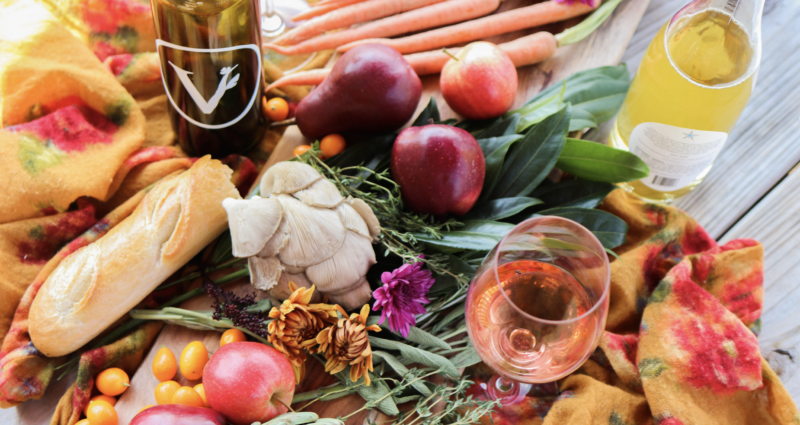 October 15th is a day for the Commonwealth to come together to toast the richness of our region with Harvest Party. People in the city, the country and on the shore, gather safely in restaurants, vineyards, private homes and open fields for a feast of Virginia-grown food and wine.
Today's traditions have too many rules and no local color. We deserve a day to celebrate what makes us, us. Inventing a new tradition and evolving it as we go seems like a very "Virginia" thing to do.
Follow along for a guide to this year's Harvest Party, Virginia's Home-Grown Holiday.
Celebrations take place all October, but some of the best are slated for the weekend of October 15.
October 14
Hark Vineyards – Harvest Dinner in the Vineyard
Lovingston Winery – Harvest Dinner & Wine Pairing
Paradise Springs Winery – Harvest Tasting
October 15
Ankida Ridge Vineyards – Salmon at Sunset 2022 (Club Members Only)
Breaux Vineyards – Harvest Celebration
Cave Ridge Vineyards- Harvest Dinner in the Vineyard
DuCard Vineyards – Fall Harvest & Leaf Peep Festival
Ingleside Vineyards – 1st Annual Estate Club Harvest Party (Club Members Only)
James River Cellars Winery – Harvest Party
Lovingston Winery – Harvest Dinner & Wine Pairing
Narmada Winery – Diwali Festival & Harvest Celebration
Pollak Vineyards – Harvest Party Picnic
Rosemont Vineyards – 13th Annual End of Harvest Celebration
October 16
Breaux Vineyards – Harvest Celebration
Breaux Vineyards – Root to Table Dine in the Vines Dinner
Cana Vineyards and Winery of Middleburg – Harvest Party
Jolene Family Winery – Harvest Market Sip & Shop
@caveridgevineyard highlights last year's Harvest dinner ahead of the 3rd annual event.

@harkvineyards is known for their stunning dinners in the vineyard.

@chathamvineyards offers oysters this Harvest Party for the perfect pairing.

@lovingstonwinery is hosting an intimate Harvest dinner with wine specials.

@stinsonvineyards is partnering with @ankidaridge for a dinner at Blue Rock.
Learn more about each celebration here. See all Virginia Wine Month events.
Take advantage of bundles, available for a limited time.
Ashton Creek Vineyards – Trio Pack
2 pack specials, $39. Rosé: 2021 Lady May Rosé & 2021 North Block Frizzante Rosé. Viognier: 2020 Viognier & Reserve Viognier.
Pollak Vineyards – Harvest Party Picnic Bundle
Bundle includes a warm baguette from Albemarle Baking Co., choice of Goot Essa cheese, choice of jam from JAM According to Daniel, and two Pollak logo wine glasses packaged together in the reusable Virginia Wine tote. Choice of wine, by the bottle, sold separately.
Revalation Vineyards – Harvest Tote Bag
A harvest tote filled with cheese from Caromont Farm, a baguette from MarieBette Bakery, wildflower honey from Erin's Elderberries, apple butter from Graves Mountain Farm & Lodge and salami from Terra di Sienna.
The Estate at White Hall Vineyard – Exclusive Northern Neck Harvest Party Pack
Featuring chocolate from Mary's Candy Kitchen, fresh baguette, your choice of specialty small batch smoked cheese from Cheese Gone Wild, Pampered Chef paring knife, seasonal sweet bread, small cutting board, two logo wine glasses all in a Harvest Party tote while supplies last for $30.
Veritas Vineyard and Winery – Harvest Trio
Includes 2019 Petit Manseng, 2021 Cabernet Franc, 2020 Saddleback Chardonnay
You can plan your own #harvestpartyva with a simple touch of local.
Invite friends & family and fill your table with favorite local bottles. Featured Virginia Wine Month partners can help guide your selections. Be sure to pair local foods along with your wines. If you're searching for some harvest-inspired recipes, head to the bottom of this page.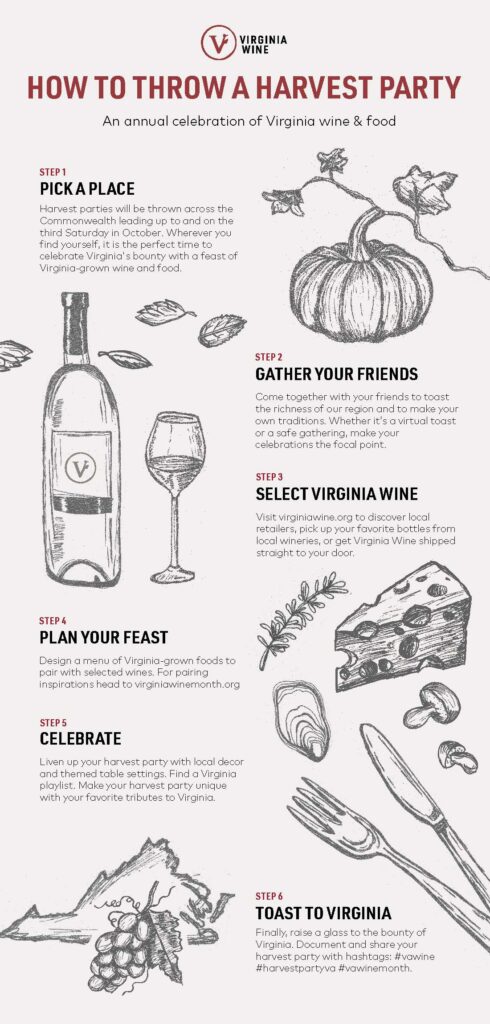 More Virginia Wine Stories