October 16, 2023
Harvest Party: A Virginian Celebration
Virginia's agriculture plays an integral in the Commonwealth. Winemakers across the state have worked tirelessly to perfect their agricultural art and craft wines that are emblematic of our sense of place. As part of Virginia Wine Month every October, the #vawine community bands together to celebrate the richness of our region with Harvest Party. The vibrant celebration is held on the third Saturday of October as a toast to the incredible community of farmers, winemakers and wine lovers in Virginia.

Five Years of Harvest Party
Since 2018, Harvest Party marks a day of gathering to celebrate the richness of our region. Where people in the city, the country and on the shore gather in restaurants, vineyards, private homes and open fields for a feast of Virginia-grown food and wine. This year, on Saturday, October 21, 2023, we toast to the fifth year of Harvest Party– a milestone that showcases the ever-growing love and appreciation for local producers and Virginia's wine industry!
Pairing VA Wines & Food
Echoing the dedication of local winemakers, Virginia's farmers and producers craft their goods with meticulous care and a deep understanding of the land. There is an undeniable connection between the land and its wines and produce. Resulting in local pairings of Virginian products that are nothing short of exceptional.
This Harvest Party, let your favorite local foods and wines be the center of your feast. Imagine pairing the salty taste of fresh Virginian oysters with the crispness of a Virginia white wine. The earthy notes of locally sourced vegetables with a robust red blend bring out notes of the state's diverse terroir. Or, enjoy local artisan cheeses and meats, all a perfect complement to Virginia's diverse wines. Seamless pairings like these help connect the land, its produce, and the wines it yields. Discover more Virginia wine and food pairings.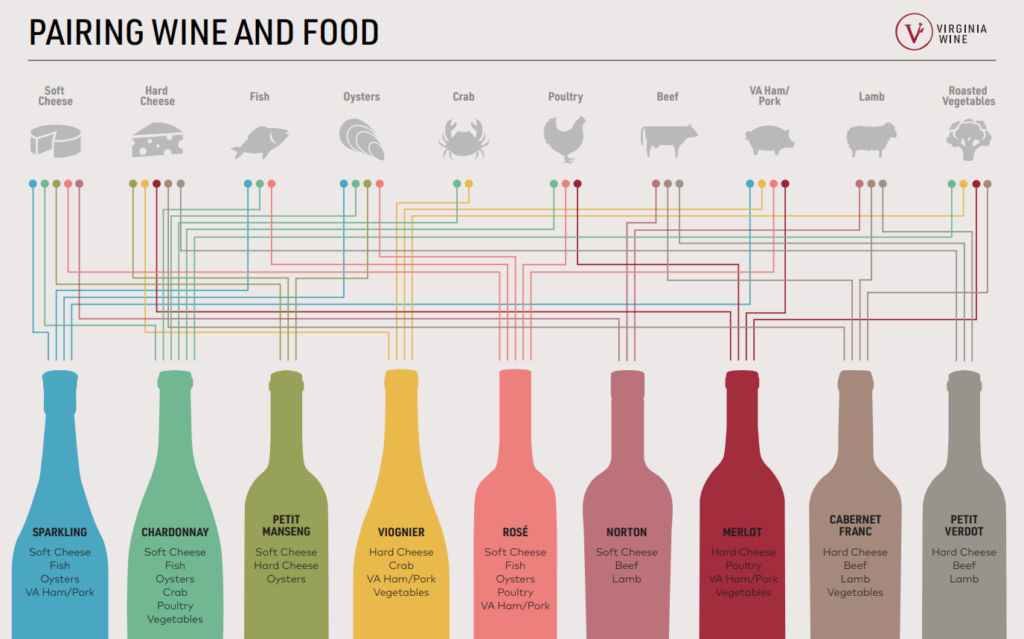 Celebrate the Harvest
If you are looking for some more inspiration, visit the Harvest Party website for recipes or discover new Virginia varietals to pair. Stock up on wines by searching through Virginia Wine retailers across the state.
Annual Harvest Party celebrations help celebrate the effort and dedication of local producers to bring the finest wines and produce to the table. There are Harvest Parties being hosted around the state at vineyards and restaurants. Find one near you.
When you're celebrating the fifth anniversary of Harvest Party make sure to share using #harvestpartyva, #vawinemonth and #vawine. Cheers to the bounty of Virginia!
More Virginia Wine Stories