August 6, 2019
Summer 2019: Vineyard Update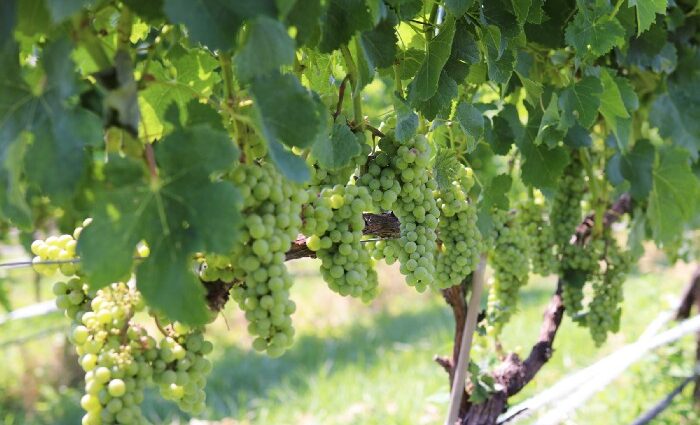 Summer is an important time in the vineyard and with a climate that's known to be mercurial, Virginia's vineyards can start outlining the story of their vintage right now. What does 2019 have in store for #vawine lovers? How have past experiences with weather encouraged our winemakers and vineyard managers to adjust? Are different regions showing different stages of progress? Read below for vineyard updates from three unique perspectives:
What is the status of the vineyards as a whole compared to this time last year?
Nate Walsh (Walsh Family Wine, Owner/Winemaker): We are very happy with the season thus far. Our sites have had lower than average rainfall, making disease pressure low and growth steady, even and not too vigorous. The vines seem balanced — overall, the weather surrounding bloom and flowering is very good this year, and, as such, yields are healthy. (Purcellville, Northern Virginia)
Maya Hood-White (Early Mountain, Associate Winemaker/Viticulturist): As we approach the 2019 harvest, recalling the same time in 2018 is a reassuring reminder of how every vintage provides us with new potential and opportunities. 2019 has been accommodating thus far. (Madison, Central Virginia)
Len Thompson (Rockbridge Vineyards, Grower): Early spring rains started the year but cleared for a great fruit set in the vines. Clear, blue skies are critical for a good fruit set. This results in a potentially large crop, at least here in Central Virginia. (Raphine, Central Virginia)
What's exciting you most about what you're seeing in the vineyards right now?
Nate: The overall health of vines this year is very good and we have had almost no disease issues, which theoretically leads us toward the best position for ripening the fruit to the overall levels that we're looking for in each variety. So, we're getting excited for even ripening and balanced fruit.
Maya: Our rainfall has been (quite thankfully) limited to storms that still allow for thorough drying of the ground; we have been lucky to see recent warm days and cool nights during fruit ripening; vine vigor is notably more balanced than 2018; this year has resulted in fruit set/yield that is much more classic to our area; and our harvest-time seems to be coming at a very rapid rate! We started sampling at the end of July (which is a first!) and have seen surprisingly high sugars at this point compared to other years.
Len: Fruit looks good and I suspect we will start harvesting a little early — around the first of September for whites.
Challenges this growing season?
Len: Large thunderstorms and abundant rain during the growing season have made it challenging to keep the fruit and canopy clean of disease and fungi.
Any new equipment or techniques you're using in the vineyard this year?
Nate: We're pretty hands-on. Nearly all of the work is done by people in the vineyard, so we don't have any new equipment. That said, we have made more singular adjustments to croploads this year, particularly for our reds, in hopes of evening ripening and getting the tannin more supple.
Maya: Historically, at this time of year, we begin to apply a slurry of kaolin clay to our fruit as a deterrent for insects, protection from sunburn and (as I like to think) some assistance in absorbing and drying off dew or slight rainfall. This season we plan to start a duster for dry applications of clay on the fruit zone as a tool to absorb external fruit moisture on an as-needed basis.
---
All in all, this summer has been kind to Virginia's vineyards. Nate says, "August and September are very important, and in Virginia, those months can swing in a number of different directions with regard to rainfall and humidity. We still have a way to go, but currently, we're in great shape." We're all looking forward to what the 2019 harvest brings to the next vintage of Virginia Wine!
More Virginia Wine Stories