January 24, 2022
We Asked Virginia Wine Influencers: Why do you love #vawine?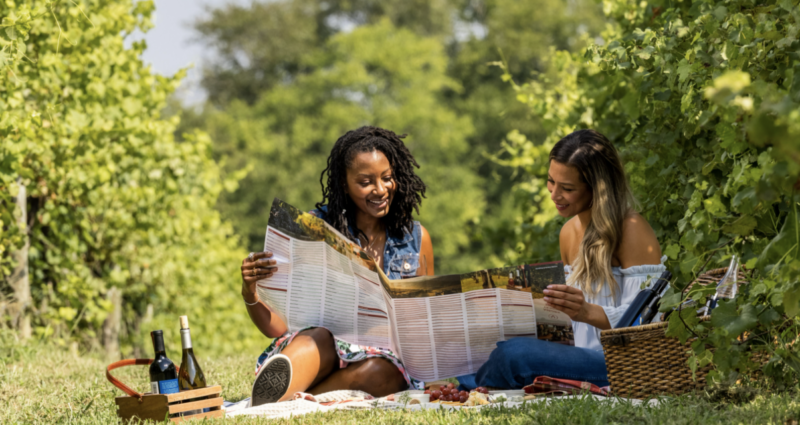 The community of Virginia Wine lovers spans far and wide, with blogs and social media accounts sharing wine adventures across the Commonwealth. We asked nine local content creators to tell us about their journey with #vawine and share some of their top recommendations.
It's only a matter of time before you find something to love about Virginia Wine.
Becca Bullard
My first winery was Potomac Point in October 2019. I was so impressed with the beauty of the winery and the quality of the wines that I just started visiting more and more… The place that really got me hooked was Barboursville. My friend and I were on the porch and started a conversation with two gentlemen. My mind was blown when one of them turned out to be their winemaker, Luca! He was incredibly kind to us newcomers and even sent me home with a bottle of Sauvignon Blanc. That's when I really fell in love with Virginia wines.
Try This.
Keep sipping and ask plenty of questions! It's easy to feel overwhelmed, but just remember, even the greatest expert sommelier was a beginner once. Your palate will grow the more you drink! Barboursville, Walsh Family Wine, and Early Mountain are my trifecta of places that will get you hooked. All have great crowd pleasing wines at a lower price point but also some incredibly complex gems.
Why Virginia?
The people who are a part of the wine community are really special. From my fellow bloggers to our incredible winemakers, this community is incredibly welcoming.
Carolyn Pifer
My first date with my now fiancé was in Virginia Wine Country! Our first stop was Pippin Hill and I remember being so in awe with the views, wines and food. We also visited Afton Mountain Vineyards and King Family— and one winery after another they were all so incredible.
I love how a majority of the wineries in Virginia are family-owned and boutique, with their own unique background stories. I don't remember the exact first [wine] I tried, but I remember that each winery had a 'Meritage' Red Blend and I thought that these wines could stand up to some of the great Bordeaux blends I've had.
Try This.
Taste and visit as often as you can! When you visit a winery, ask questions. As someone who works in a tasting room, I always love when people ask me questions about viticulture and our wines.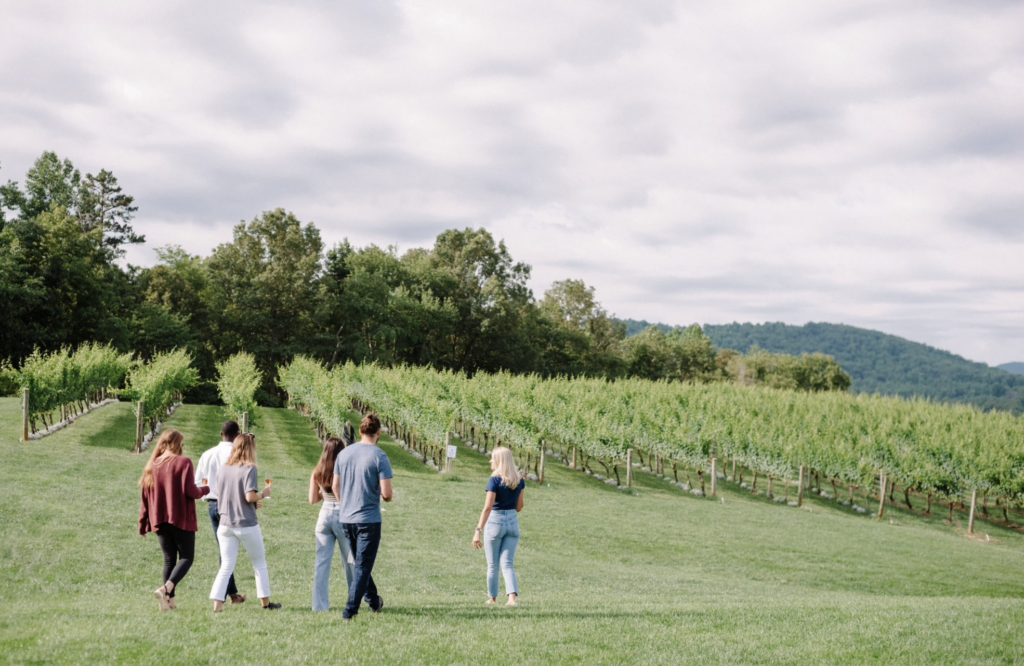 I would highly recommend the Pippin Hill Estate Tour & Tasting. This experience is designed for the wine lover, but also for people wanting to learn about viticulture, food and wine pairing. You get a tour of the vines, a tasting of reserve and library wines, finished with a few signature Pippin Hill dishes in the tasting room. Additionally, as the wine educator at Pippin Hill, we have started offering "wine school" classes every couple of months.
A lot of wineries offer "elevated" tasting options and although they can be a little pricey sometimes, the education and experience you get is well worth the price. Check out the Early Mountain Elevation Tasting, Veritas Reserve Tasting, and King Family Reserve Tasting.
Why Virginia?
My favorite part about Virginia wine is the supportive community of people involved and how each person in the industry is helping Virginia blaze a new and unique trail of wine in our country.
Emily Adler
Nearly a year ago, as I prepared to move from Michigan to northern Virginia, I started casually researching which wineries might be near me, and little did I know there would be hundreds! I was hopeful to meet friends with similar interests, one of mine of course being wine & wine travel/winery experiences. I was lucky to connect with a few VA wine bloggers early on and the sense of community instantly gave me something to look forward to.
Try This.
I personally love learning through experiences—and the impressive number of wineries across the state makes it easy to get out and about, meet passionate members of the industry, connect with other wine lovers and learn as you sip! I recommend picking up a state winery guide for easy reference & tracking your adventures and experiences along the way.
I had rarely to never tried these varietals before moving here: Petit Manseng, Petit Verdot and Cabernet Franc. I personally love the Petit Manseng at Fabbioli Cellars and The Winery at Bull Run and the Cabernet Franc at Slater Run Vineyards and Arterra Wines. You can't go wrong with anything from Slater Run, Glen Manor Vineyards, Linden Vineyards or Early Mountain Vineyards, too!
Why Virginia?
So many reasons, to name a few: the stunning & unique beauty of Virginia's many AVAs, the numerous, delicious varieties that grow so well here, and the welcoming, inclusive and passionate nature of the wine community.
Matthew Fitzsimmons
My first wine experience was at Casanel Vineyards, and owner Nelson DeSouza came out to not just greet my group, but give us a personal tour and tell us his life story.
Don't try to compare Virginia to anywhere else, especially California. It has its own unique style.
Try This.
For the wine enthusiasts— Linden Vineyards or Barboursville Vineyards. For those who are just starting to explore— Early Mountain, Stone Tower, or King Family. Don't be afraid to try a more premium experience, which they all offer.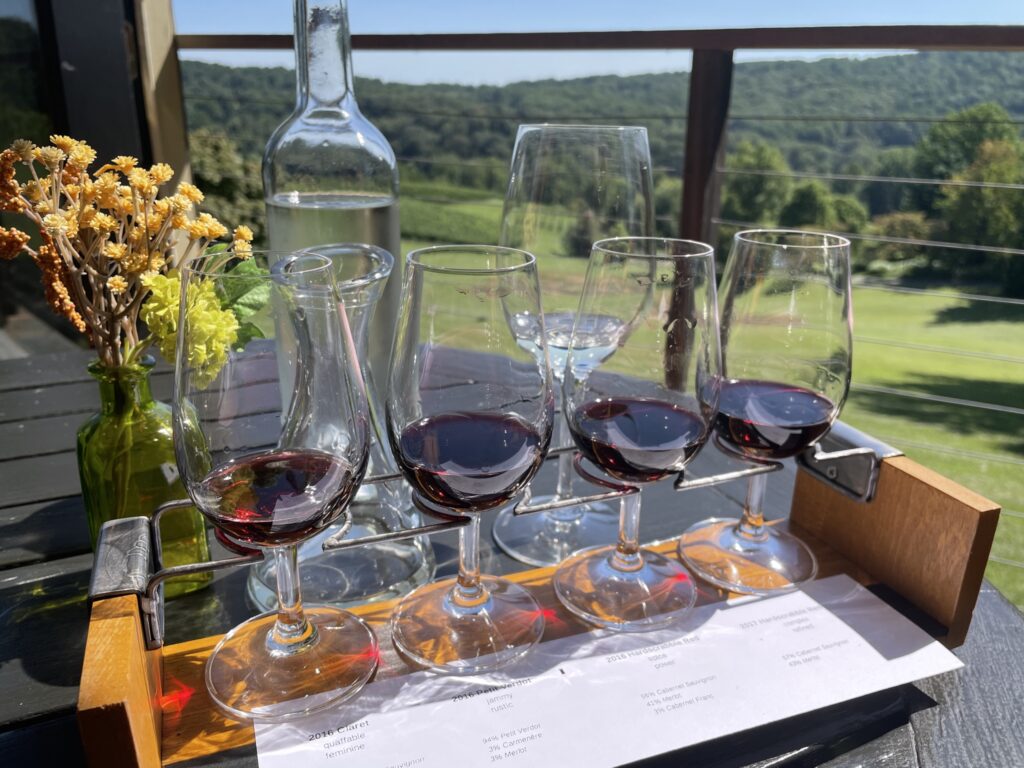 Why Virginia?
The hospitality you find in Virginia Wine is special and caught my attention from the beginning.
Nancy Bauer
My first Virginia winery visit was Naked Mountain Winery, a corporate outing one night twenty-five years ago. The bus couldn't make it up the hill and we had to get out and walk, but it was so worth it. After that, I started buying any Virginia wines I could find at the grocery store— especially Horton Vineyards.
When I got into travel writing in 2010 and we decided to create an app, Virginia Wine Country was the obvious subject. [My husband and I] visited 150 Virginia wineries in 150 days that year to research and photograph, and you'd think that would all be a blur now, but I still remember every winery and every tasting bar. Potomac Point Winery in Stafford was the first and Veramar Vineyard in Berryville was the last. We drove thousands of miles, way off the beaten path. Virginia is by far the most beautiful state I've ever seen.
Try This.
Definitely join the Virginia Wine Love Facebook Group! I started it in March 2020 when COVID-19 began to try to support wineries, and now we have more than 7,000 members who share experiences, ask questions and get advice from each other.
Go someplace where you can try a bunch of high quality Virginia wines from different wineries all in one place, like Early Mountain Vineyards or The Virginia Tasting Cellar in Farmville or the new Virginia Wine Experience salon at The Homestead Resort. A great cheat sheet to find some of the best wines in the state is the Virginia Governor's Cup.
For even more, book a private tour or cellar tasting with an experienced winemaker. You'll hear all about how Virginia is different and what it excels in and why.
Why Virginia?
I've been drinking Virginia wine and visiting wineries since 1997 and writing about it since 2010.
I see the occasional Facebook post or hear someone at a gathering questioning whether there's good wine to be found in Virginia. Thirty years ago, even twenty years ago, it was more difficult to find. But not now. Every ten years, there has been a huge leap in quality because there's been a huge leap in knowledge. I love seeing the excitement of a winemaker when they know they've hit one out of the park.
Paige Poprocky
I started my love affair with wine when I moved to Virginia in 2012 to pursue a career in teaching. My fire ignited when I visited my first Virginia winery, James River Cellars. I was so impressed by the story of the winery and wine that I was hooked— I immediately got a Virginia winery guide to start planning trips.
After countless wineries, I knew I wanted to start studying wine — I started working at James River Cellars to immerse myself even more. A few months later, Sips and Trips with Paige was born! Since then, I have earned my WSET 1 and 2. I recently nixed teaching to dive into wine and social media full-time.
Try This.
The best way to learn is to just dive in! Visit as many wineries as you can while keeping an open mind. Don't be afraid to ask questions and try all different types of wine.
Some of my favorite wineries are the ones that I have gotten the chance to talk to the owners and winemakers. You really can hear their stories and what makes them so special. I have especially loved my time at Ankida Ridge, Wisdom Oak, and Grayhaven Winery. These wineries hold a special place in my heart because of the people. It's more than wine, it's relationships.
Why Virginia?
As a Virginia Studies teacher and lover, I take pride in the long and interesting history of Virginia Wine. Since Jamestown and Acte 12, we have been planting and tending to grapevines— I always tell people we have been tending to grapevines way longer than Napa! It just so happens that we were a 400-year experiment and we finally figured it out. I am proud to drink Virginia Wine and I am SO proud to share it. We are innovative, persistent and determined.
Reggie Leonard II
I had my 'Aha' moment with Virginia wine in April 2019 during my first-ever seated wine tasting with Ben Jordan (Early Mountain Vineyard, Lightwell Survey, Midland Construction) and Maya Hood White (Early Mountain Vineyard, RAH). It was eye opening to hear Ben share what was essentially a verbal thesis on Petit Manseng being a versatile grape that grows well in this region, can be made in a variety of styles (dry, off-dry, sweet) and that is still relatively unclaimed on a global scale. Then, hearing Ben contrast that with speaking about co-fermenting grapes as an exercise in giving up control, which is his process for making Lightwell Survey wines, and discussing the beauty in that, I knew that I wanted to be a part of this world.
My personal mantra is simply, "Never arrive." It serves as a reminder to always be exploring, pioneering, and being open to experiencing familiar things in unfamiliar ways. I've had countless encounters with Virginia wine that have been absolutely reflective of that sentiment.
Try This.
Approach Virginia Wine for what it is, and not what you think it should be. One of the best ways to begin approaching Virginia Wine is by visiting tasting rooms. The tasting room culture of Virginia is very amenable to newcomers, with knowledgeable staff and many varietals to try. Even if you know what you like, still purchase a flight tasting along with a glass of your favorite wine. You may think you don't like a certain grape, but perhaps that grape is done in a different style here in Virginia, or at a particular winery.
There are so many exceptional Virginia wines and wineries to experience.
Why Virginia?
My favorite part about Virginia wine, aside from it being delicious and unexpected, is talking to Virginia winemakers. They embody such a pioneering spirit, as they work in a landscape (and terroir) that is presently being explored and considered, and has yet-to-be defined. I would venture to say that if the winemakers have their way, VA Wine will continue to be a hotbed of experimentation, tinkering and interacting with the environment and the season to see where it leads them. I want that spirit in my life as much as I want it in my wine.
Sarah Garratt
From the beginning, I loved the whole experience of wine tasting at a Virginia winery. The first one I went to was at Paradise Springs. Our taster was so knowledgeable and passionate about the wines. She got so excited to hear this was our first winery, and wanted to make sure that we left with a good impression. She took the time to get to know me and the people in my group, what kind of wine we liked and gave us other suggestions of VA wineries to visit.
Try This.
Go, taste, ask! The best way to learn more about wine is to taste wine, and the people behind the counters at the wineries are the experts. They're always happy to answer your questions and want to make sure you are enjoying yourself.
To start— try Early Mountain, Vint Hill, Pearmund, Effingham Manor, William's Gap, Linden, Barboursville, King Family, Rappahannock, Slater Run, Walsh Family, Michael Shaps, Muse— I could keep going! Virginia wine has really become amazing in the last 10 years, so if you've had one bad experience, try another wine/winery, because that is not the norm anymore.
Why Virginia?
The people! I've met so many friends through our common love of VA wine. Everyone in the VA wine community is so friendly and wonderful.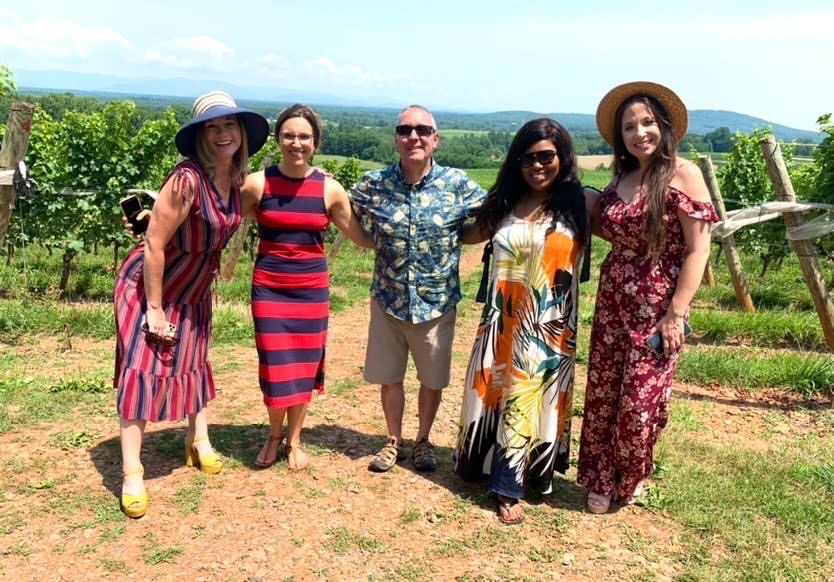 Stacy Brooks
In the late 90's, I was right out of college working my first job as an event manager and one of my events was the Town Point Virginia Wine Festival in Norfolk, VA. I quickly learned a lot about the Virginia wine industry. I found it all very intriguing and I wanted to learn more, but it wasn't until about 5 years later that I visited my first Virginia winery which was Tarara Winery in Loudoun County (one of the first in the county).
I instantly fell in love with the wine, ambiance and overall friendliness of staff and visitors alike. After that visit, I wanted to spend every beautiful weekend at a winery. So, I began visiting as many as I could and eventually in 2010, when blogs were starting to take off, I decided to put my journalism degree to work and journal my experiences. Not only did I love the wines I was discovering and the new friendships I was forming, but I was amazed at all of the beautiful nature right here in my home state.
Try This.
Unlike wines from more familiar regions such as Napa Valley or the Finger Lakes, you can't fit Virginia wines into a single category. We grow the same grapes other notable regions grow but very differently because we have completely different climates and terroir. A Cabernet Sauvignon from the Northern Virginia region will likely be completely different from a Cabernet from the Southern or Eastern Shore regions. So, taste, compare, learn, and discover your favorites. Have an open mind and open palate. Wine is a personal preference so you be the judge.
One of my favorite wineries is Fabbioli Cellars. Why? It's a boutique winery with a world-class selection of wines for every palate and made with love (you can absolutely tell this when you drink their wines!). I highly suggest trying the Paco Rojo (a light bodied table red that I promise will please everyone – even those who "don't like red wine") and the Cabernet Franc. If you love earthy, dry reds like I do, this one is a treasure. If you love sweet wines, you'll fall in love with the Raspberry Merlot.
Why Virginia?
For me, it's not just about the wine– you can buy good wine at the store. It's about the overall experience that you have while visiting Virginia wineries and enjoying Virginia wines. It's the ambiance, the nature, the relationships that are nurtured and the new friendships formed… all over an amazing glass, or bottle, of wine.
More Virginia Wine Stories