March 10, 2021
2021 Virginia Governor's Cup Recap: Unveiling Virginia's Finest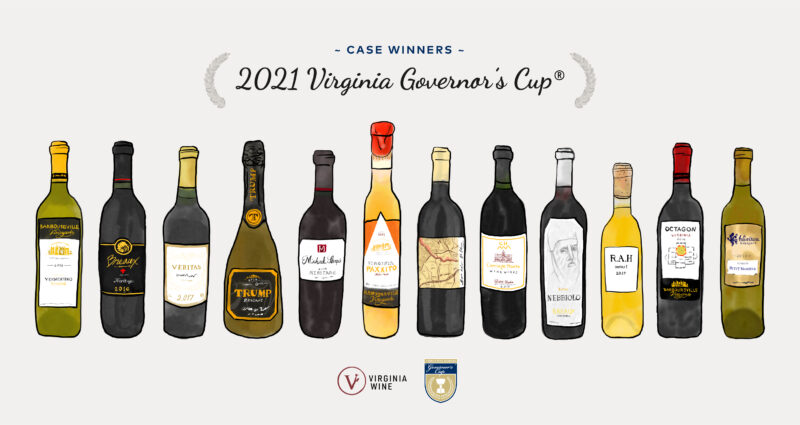 Each year, the Virginia Wineries Association's Virginia Governor's Cup® highlights the exciting things happening here in Virginia's wine country and recognizes the wineries and wines that continue to put Virginia Wine on the map.
While this year's celebration couldn't be held in person, last night's 2021 Virginia Governor's Cup Awards Reveal still shined a spotlight on this year's winners. The case-winning wines, the Cup winner and the inaugural Best in Show Cider were all announced. Key supporters of the competition, along with Virginia's Secretary of Agriculture and Forestry, Bettina Ring, and Governor Ralph Northam joined in to unveil the top award winners.
Governor Northam awarded the Virginia Wineries Association's 2021 Governor's Cup® to Barboursville Vineyards for their 2015 Paxxito. Under winemaker and general manager Luca Paschina, Barboursville's wines have now earned five Governor's Cup awards, previously for their 1988 Cabernet Sauvignon Reserve, 1997 Cabernet Franc, 1998 Cabernet Franc Reserve and 2009 Octagon.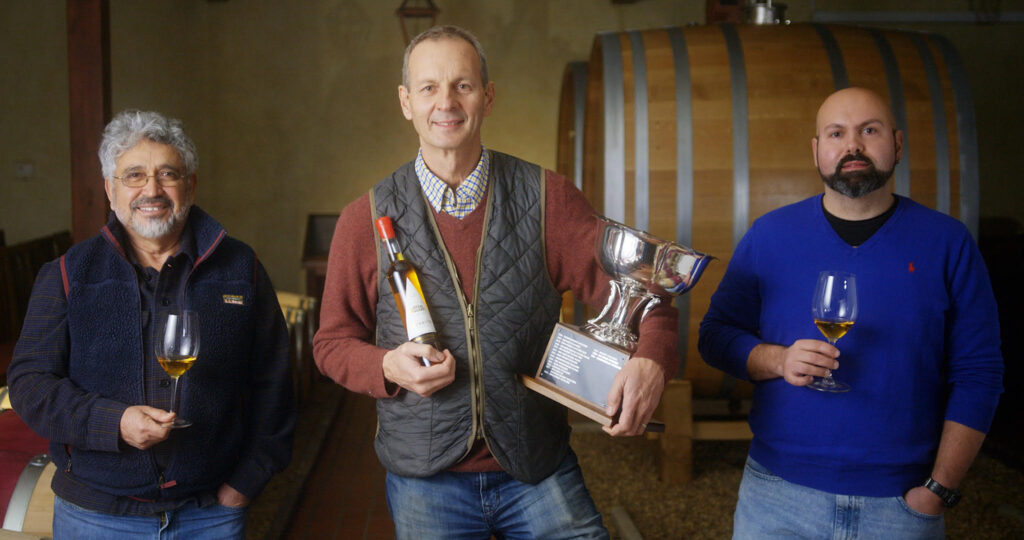 Eleven other wines received top honors at the celebration and, with the Barboursville Paxxito, comprises the 2021 Governor's Cup Case®.
* Barboursville Vineyards – 2015 Paxxito *
Barboursville Vineyards – 2016 Octagon
Barboursville Vineyards – 2019 Vermentino Reserve
Bluestone Vineyard – 2019 Petit Manseng
Breaux Vineyards – 2016 Meritage
Breaux Vineyards – 2016 Nebbiolo
Carriage House Wineworks – 2019 Petit Verdot
King Family Vineyards – 2017 Mountain Plains
Michael Shaps Wineworks – 2015 Meritage
R.A.H. Wine Co. – 2017 Series 1
Trump Winery – 2014 Brut Reserve
Veritas Winery – 2017 Petit Verdot
Within the Governor's Cup Case, there is wide representation from Central Virginia as well as the Shenandoah Valley and Northern Virginia. The broad geographical diversity highlights Virginia winemakers' ability to listen to their land and navigate the Commonwealth's varied landscape and conditions.
For the first time, Virginia ciders were eligible to enter the competition in their own category to compete for the Best in Show Cider award. Lost Boy Cider's "Comeback Kid" took home the 2021 award, with three other ciders receiving gold medals in the competition.
While the competition has come to a close, there are more opportunities to savor the award-winning wines and taste the best of Virginia:
2021 Virginia Governor's Cup Tasting
For the first time, the Virginia Wineries Association will be holding a Governor's Cup Case® and Best in Show Cider tasting for Virginia Wine fans. It will be held in person at multiple host wineries across the Commonwealth accompanied by a virtual presentation with live host Jay Youmans, MW and competition judging director. The event is scheduled for Thursday, April 29th from 6:30 to 8:30 p.m.
Gold Medal Wine Trail
Virginia Wine lovers can taste the wines from gold medal-winning wineries by following an interactive Gold Medal Wine Trail. The trail will run through 2021 and we're offering a Virginia Wine wine tumbler to participants who check-in at 12 of our participating locations.
That's not all, select wineries are offering their own deals, too. From free tastings of the gold medal-winning wine to discounts on bottle purchases, the Gold Medal Wine Trail opens the door to an exclusive Virginia Wine experience.
More Virginia Wine Stories