January 20, 2019
Perfect Pairings: Cheese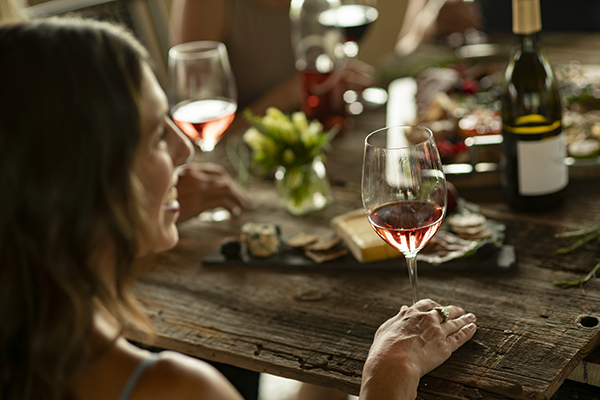 Cheese and wine: a centuries-old partnership that continues to delight and surprise gourmands all over the world. Today is National Cheese Lovers Day, and because we know those who love wine will reach for cheese when they feel hunger pangs, we've reached out to a few local experts that can help you find that perfect pairing.
Why Are Wine and Cheese Best Friends?
What makes these two delicacies complement each other? Tracey Love, owner of Hill & Holler and part of the Blenheim Vineyards team says, "Wine & cheese go together like salt & pepper because opposites attract, but together they balance seasoning food perfectly. The astringency in wine needs the fattiness of cheese to bring the whole mouth melting sensation together." Her husband, Bridge Cox, who is the owner and cheesemaker at Twenty Paces adds that "They're buds from different sides of the tracks! […] A match made at the crossroads […], each elevate each other to reach a higher plane of palate ecstasy." The relationship between cheese and wine is dependent on their differences which bring out the best in each other.
Choose Your Favorite Wine and Cheese Pairings
It can be hard to narrow down all of the wine and cheese pairing possibilities. We tried to make it a little easier for you by asking what some of our local experts' favorite wine varietal and cheese specific pairings are.
Tracey Love, Blenheim, Hill & Holler: Sauvignon Blanc with a tangy, tart, fresh goat cheese or feta. I love the acidity balanced with the tropical fruit notes of Sauv Blanc and enjoy those same attributes in cheeses, especially when mixed into a hearty salad.
Bridge Cox, Twenty Paces:
-Dry Rieslings with the new American Vacherin styles like Uplands "Rush Creek Reserve"
-Pinot Noir with more mild funksters like Meadowcreek "Grayson"
-Lambrusco (frizzante) with Fiore Sardo DOP
-Chardonnay with 32 month Marcel Petite Comte
-Rousanne with Hahn's End "City of Ships"
-Sauvignon Blanc with Twenty Paces "Hardware"
Aileen Sevier, Early Mountain, Master of Wine Candidate: Sauvignon Blanc with fresh goat cheese.
D'Angelo Robinson, Cheese Specialist, Cooper Vineyards:
-Old vine Zinfandel/Affidalice
-Petit Verdot or a Bordeaux blend/St. Agur Bleu
-Viognier/Comté
-Petit Manseng/Bucheron
Begin Experimenting With Your Pairings
Sometimes, you never know until you try. But going in blind can be a bit intimidating, so we asked Aileen Sevier, part of Early Mountain Vineyards team and Master of Wine candidate. Her response? "Pair sweet wines with blue cheese or cheese with a strong bite or food with spicy flavors.
Pair bright, high acid wines (i.e. Sauvignon Blanc) with cheeses that have a citrus/herbal character (most fresh goat cheeses).
Pair earthy, red fruited reds (Pinot Noir, Rioja, some Cabernet Franc) with aged mountain cheeses (Appalachian, Manchego).
Pair robust, dark fruited reds (Cabernet Sauvignon, Syrah, some Cabernet Franc, Petit Verdot) with cloth wrapped cheddars, Mimolette, and fuller flavored (non-creamy) cheeses such as Gruyere."
Need Tips for Buying Cheese?
We asked our experts for tips on buying local cheeses, and the suggestions were pretty much unanimous: Visit your local cheesemonger! Finding a vendor that you respect and trust, and who, in turn, understands your tastes, is invaluable when shopping for specialty cheese. They caution that you might be spending a little more money, but remember that quality cheese exceeds the commercial blocks you'll find in grocery stores!
Buy Local, Eat Local
We believe it's always best to buy local if you're able. However, there is something very special about local specialty products, like cheese and wine. As D'Angelo says, "It gives Virginia a chance to say "Hey! Look what we're doing."" Bridge reminds us that that are only a handful of cheese producers in the Commonwealth, making it a wholly unique industry. Aileen says, "It's so eye-opening to taste fresh goat cheese that is completely different in flavor and texture in the spring versus the fall — it brings you back to the rhythms of food production that we're all so removed from in day-to-day life."
We hope you have a wonderful time celebrating National Cheese Lovers Day! If you find a particularly spectacular Virginia Wine and Cheese pairing, please let us know what it is in the comments!
More Virginia Wine Stories