February 14, 2019
Perfect Pairings: Chocolate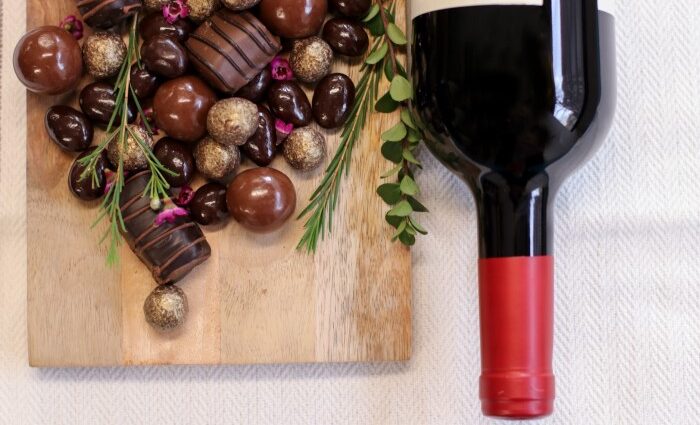 Chocolate and wine: two quintessential elements of Valentine's day that make for delightful celebration. Yet, these two delicacies can pose a challenge when pairing together considering the complexity of wine combined and the availability of an endless array of chocolates. We reached out to Cathy Lindahl, Tavern Director and Sommelier at the Red Fox Inn & Tavern and Booth Hardy, Sommelier at Barrel Thief Wine Shop and Cafe to help create perfect chocolate and wine pairings.
White Chocolate
Cathy notes, "White Chocolate technically isn't chocolate, so it is somewhat easier to pair, as it doesn't have the bitter components that sometimes make chocolate difficult to pair." She suggests a sweet Riesling or a Virginia Sparkling. "The sweet citrus notes and acidity of Riesling mingle well and Sparkling wine amplifies white chocolate's creamy flavor and texture."
Booth also noted that chocolate and wine pairings aren't always straightforward. "Chocolate tones down the complexity in wine so I don't like anything too serious; sweetness in the wine is almost always good for a solid pairing." For white chocolate, he recommends an off-dry sparkling white, perhaps made from Vidal.
Milk Chocolate
Both Cathy and Booth recommended a Virginia Chambourcin. Booth notes that a late harvest Chambourcin would pair beautifully with chocolate similar to Kinder Bueno. Cathy expands this, saying, "Virginia Chambourcin can be made in a multitude of styles. A fuller-bodied style with a little more residual sugar is a great match to milk chocolate! Plenty of fruit flavor, spice and acidity make this a great dry red with milk chocolate. Be sure to steer clear from very dry, smoky, foxier styles."
Dark Chocolate
Booth suggests a fortified Port-style red wine to pair with simple dark chocolate. He also created a stunning pairing between Gearharts Fine Chocolates' Candied Orange Peels and a late-harvest Virginia Petit Manseng.
Cathy agrees that Port-style dessert wines will create the perfect pair you are seeking. "Dark chocolate is the hardest chocolate to pair," she reminds us, "but when done well, can be the most satisfying pairing!" In addition to a Port-style wine, she recommends more fruit-forward, lush styles of Merlot. "The deep blueberry, plummy flavors really offset the intensity of dark chocolate. Matching intensity is key, but try to stay away from reds with a high-tannic profile like Petit Verdot or Cabernet Sauvignon as they can bring out bitter flavors."
Enjoy making today, and every day, a bit sweeter with these suggestions on the perfect pairs between chocolates and Virginia wines. Cheers!
More Virginia Wine Stories