November 9, 2023
Celebrate Cider Week with the Virginia Cider Tasting Pass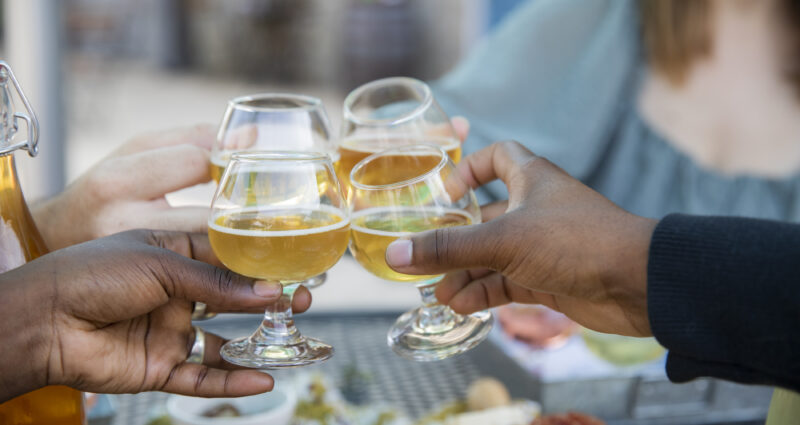 This year, from November 10 to 19, marks Virginia Cider Week – a time of celebration that invites cider lovers everywhere to dive into the world of Virginia cider. With a legacy that dates back centuries, cider was initially imported from England as a means of staying hydrated when clean water was scarce. Today, it has evolved into a thriving industry with 50 cideries in the Commonwealth crafting an array of outstanding ciders.
Virginia is the sixth-largest apple producing state in the U.S., proving that our cider makers are dedicated to bringing out the best in their apples. This week, we come together to celebrate this dedication and raise a glass to Virginia cider!
Introducing the Virginia Cider Tasting Pass
There is no better way to celebrate Virginia Cider Week than joining the new Virginia Cider Tasting Pass! Explore the world of Virginia cider with this exclusive mobile digital passport. By signing up, you'll unlock tasting access at over a dozen cideries, each crafting ciders of uncommon diversity and sophistication.
Purchase the pass for $22.50 and receive four $10 vouchers (a $40 value) to redeem at your chosen cideries. The passport is conveniently delivered to your phone via text and email, containing all your tasting vouchers. Upon arrival at your selected cidery, simply present your phone to redeem your vouchers. Relax and savor the unique flavors of #vacider.
Join the Celebration
Virginia Cider Week traces its roots back to 2012 when the Virginia House of Delegates and the state Senate passed House Joint Resolution 105, designating the full week before Thanksgiving as Cider Week in Virginia. Since then, cideries across the Commonwealth have celebrated this week with a variety of events such as festivals, tastings, pairing dinners, workshops, and open houses. It's an opportunity to cheers to the growth and diversity of the Virginia cider industry. Learn all about Virginia Cider Week and the upcoming events.
Fri Nov 10, 12-10
Buskey Ruby Red Crab Apple Cider Release at Buskey Cider
This cider has been over a year in the making! Introducing, Buskey Ruby Red Crab Apple Cider. Made with 100% Virginia grown ruby red crab apples. Available on draft and in 500ml bottles. Enjoy a pour at the cidery, take a bottle home to Thanksgiving, and celebrate Virginia Cider Week at Buskey Cider!

Fri Nov 10, all day
Age Old Apples Tap Takeover at Sage Bird Ciderworks
Taste & compare single varietal ciders as they make their way on tap for a special Single Varietal Flight during Cider Week!
Tue Nov 14,
5:30pm-8:30pm
4-Course Cider Dinner with The Ridge Room
at Sage Bird Ciderworks
Sage Bird Ciderworks and The Ridge Room present a cider-paired, seated dinner in the taproom to celebrate Virginia Cider Week. Enjoy a nice night out as Sage Bird transforms into a fine dining restaurant. The entire dinner is Gluten-Free and has a vegetarian option in each course. After selecting your reservation seat, you will be prompted to select your menu.
Entry Cost: $80 includes your meal, cider, and gratuity.
Wed Nov 15,
5:00 PM – 7:00 PM
Cider and Chocolate Pairing at Ciders from Mars
Enjoy a flight of select ciders from Ciders from Mars, paired with a flight of confections from Laurie's Chocolates (https://www.laurieschocolates.com/#/)! Hand picked by the cidermakers and chocolatiers, this pairing is sure to be a Cider Week treat! Supply is limited, so be sure to stop by early! Laurie's Chocolates will be on site selling their handmade treats!
Entry Cost: $20
Wed Nov 15, 7pm – 9pm
Virginia Cider Trivia at Buskey Cider
If you're the biggest cider fan ever, this one is for you. Push your trivia skills to the limit with this special edition trivia at Buskey Cider. Starts at 7pm on Wed, 11/15.
Fri Nov 17, 7:00pm-8:30pm
Hewe's Crab Smackdown at Sage Bird Ciderworks
We've had the Harrison Comparison, the Sippin' Pippin, and now the king of all the ciders steps up for a comparison event: It's a Hewe's Crab Smackdown!
Virginia cideries go head-to-head in this Cider Tasting to showcase our state's best Virginia Hewe's Crab single varietal ciders. Join us for a night of tasting, appetizers, and a chance to chat with cider enthusiasts across Virginia.
Tickets include: heavy hors d'oeuvres, taste training & table service with staff, seated tasting of Virginia Hewe's Crab Ciders from around the state (unlimited tastings plus 1 full glass of your choice), Meet & Greet with Virginia cider professionals. After tasting, guests will submit their vote. Stick around for the winner announcement at the end of the evening!
Entry Cost: $30
Throughout the week, don't forget to share using #vacider #vawine #ciderweekva. Start your adventure and see why Virginia Cider is worth celebrating.
More Virginia Wine Stories