January 1, 2020
A Year in Review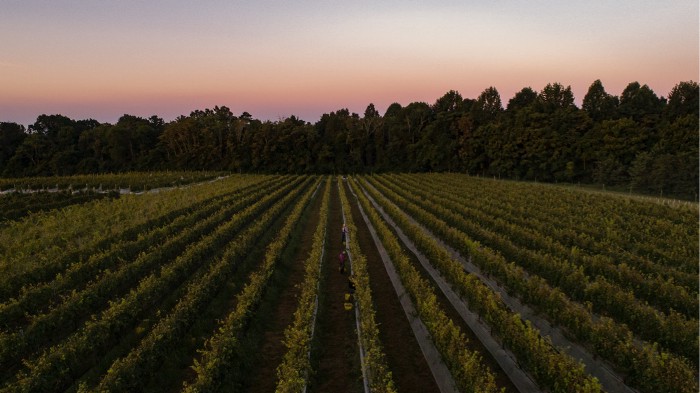 While Virginia's vineyards rest during the winter season, wine lovers eagerly anticipate what will be in store in the 2020 vintage. While waiting, take a look back at the last year with Virginia Wine.
1. A Virginia White Took Center Stage
A Petit Manseng took home the coveted Virginia's Governor's Cup award in 2019. The case winner is nearly always a bold Virginia red, yet the 2016 Horton Vineyard's Petit Manseng was crowned the winner of the Governor's Cup case. Originating in the southwest of France, Petit Manseng is making its mark in Virginia — so much so that three Petit Mansengs earned their spot in the 2019 Governor's Cup case.
2. Bottles were Opened and Experiences were Shared
Across the state travelers from near and far visited wineries, wine shops and restaurants to get a taste of Virginia. No matter where you find yourself, each stop is uniquely its own — with a distinctive bottle to share and story to tell.
VinePair took a moment to explore Virginia's wine region and broke down everything you need to know. Wine Enthusiast visited the coastal side of the state and provided a guide on the emerging region.
Ready to embark on your next Virginia Wine adventure? Download the Virginia Wine app or request the 2020–2021 Virginia Winery Guide.
3. Wine Country became Summer Camp
During the summer, Sommeliers from across the country found their way to Virginia to get a taste of what's happening for themselves. The first-ever Virginia Somm Camp gave attendees the chance to experience Virginia winemakers' adventurous and humble endeavors.
4. Toasts were Raised to Virginia's Bounty
Celebrations took place across the state in honor of Virginia Wine's homegrown holiday — Harvest Party. People in the city, the country and on the shore gathered in restaurants, vineyards, private homes and open fields for feasts of Virginia-grown food and wine.
Mark your calendar for next year's Harvest Party Celebrations — October 17, 2020.
5. Winemakers' Experimental Spirits Continue to Shine
Virginia's winemakers remain committed to crafting wines that embody the grace, grit and experimental spirit of their home. From canned wines, unique blends, and exploring new avenues in winemaking, the excitement of Virginia Wine continues to build into the start of the coming decade.
Cheers to 2020!
More Virginia Wine Stories