September 30, 2019
A Guide to Virginia Wine Month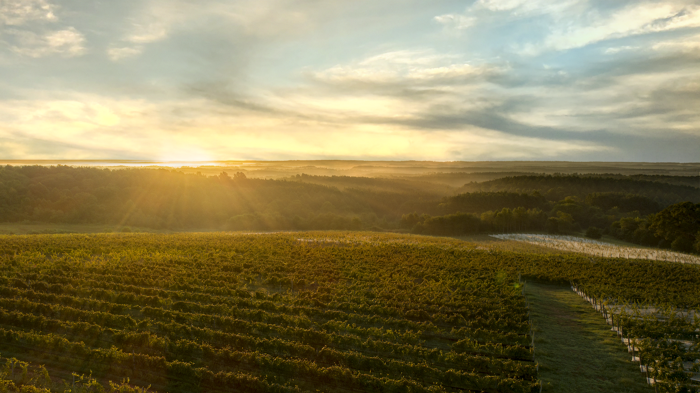 October is Virginia Wine Month.
A hint of a chill enlivens the air. The foliage bursts with brilliant color and glasses everywhere are raised to celebrate the harvest.
Pick a vineyard or a weekend. Plot out the perfect itinerary or follow wherever the road takes you to explore the shifting landscape and extraordinary wines of Virginia.
The Story of Virginia Wine Month
The celebration of Virginia Wine Month dates back to 1988, making this year the 31st anniversary.
Three decades ago, the inaugural Virginia Wine Month was formally announced by Governor Gerald Baliles in the Rose Garden at the Executive Mansion in Richmond, VA. Since then, Virginia Wine lovers have embraced the season by adventuring into Virginia's wine country and toasting in celebration.
Learn more about the evolution and history of Virginia Wine Month.
Visit Virginia's Vineyards
One of the most enchanting ways to make the most of the season is to go to Virginia wineries and experience the magic yourself. Autumn highlights Virginia's shifting landscape. From the colorful foliage in the Blue Ridge Mountains to the chill that breezes along the sandy shores, magic can be felt all around.
You will find an array of special events around the state throughout October. Find what interests you and start planning your adventure. Either request a Virginia Winery Guide or start planning your itinerary online today.
Enjoy Virginia Wine
Bring Virginia Wine home and share it with friends and family as you toast to the season. Find Virginia Wine at a store or restaurant near you. Try a new pairing with your favorite wine, or explore a unique Virginia varietal.
Harvest Party
Harvest Party is a day for the Commonwealth to come together to toast the richness of our region. Where people in the city, the country and on the shore gather in restaurants, vineyards, private homes and open fields for a feast of Virginia-grown food and wine.
October 19th marks the official day to celebrate Harvest Party. Head here to learn more, find an event near you or learn how to throw your own!
Enjoy celebrating all Virginia Wine Month has to offer- follow along throughout the month — #vawinemonth #harvestpartyva.
More Virginia Wine Stories