October 11, 2018
Introducing Harvest Party: Virginia's Home-Grown Holiday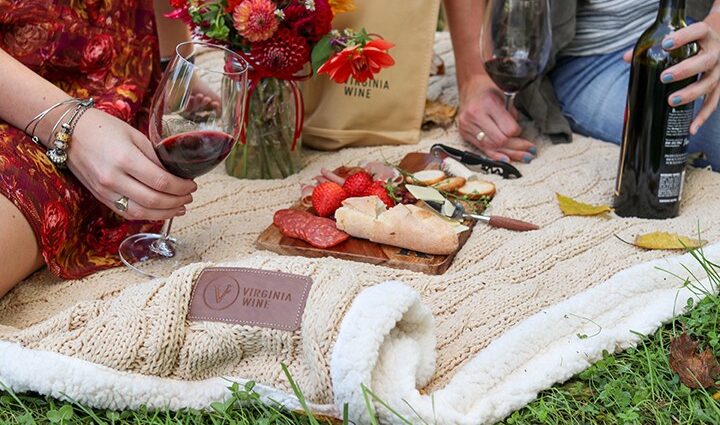 Hints of chill are enlivening the air in Virginia and the changing color of the foliage is on the horizon. Autumn is here in the Commonwealth and people everywhere are raising glasses to toast the harvest. There's something magic about October in Virginia Wine country, and it's the perfect time to celebrate the abundance this state has to offer.
Have you been looking for a way to celebrate harvest in Virginia? Ponder Harvest Party: Virginia's home-grown holiday. It's a day the Commonwealth can come together to acknowledge and admire the richness of the region. Whether you're in a vibrant city, quiet shore town or historic mountain community, it's time to gather at vineyards and local restaurants, in open fields or in the comfort of your own home to feast on Virginia-grown wine and food and celebrate what makes us… us.
There's no one way to participate in Harvest Party and just a few requirements: Virginia-sourced food, gracious hospitality and bottles of exquisite Virginia Wine.
Want to throw your own Harvest Party? Use these resources to plan the perfect one:
How To Throw A Harvest Party
Pairing Virginia Wine and Food
Harvest Party Partners
Harvest Party recipes presented by some of your favorite sommeliers and restaurateurs can be found on the Harvest Party website.
Not up for party planning? There are Harvest Parties all around the state at different vineyards and restaurants. Find one close to you.
When you're celebrating the bounty of our region make sure to share it with the world using #harvestpartyva, #vawinemonth and #vawine. Enjoy the inaugural year of Harvest Party, and cheers to Virginia harvest and wine!
More Virginia Wine Stories